Introduction
A Shower Caddy is a device placed in a shower that holds soaps, shampoos, conditioners, loofahs, razors, shaving cream, toothbrushes, washcloths, sponges, or any other item you want within reach while taking a shower.
Shower Caddies have many different designs, are made of different materials, are different sizes, and attach to your shower in different ways. Choosing the best shower caddy depends on the type of shower you have, what type of caddy you want, and other personal factors. It's not uncommon for showers to have several shower caddies depending on who uses the shower and what they want to store in each shower caddy.
Shower Caddy Attachment Styles
Many caddies are shower head caddies and attach to the showerhead and hang below it. These provide a convenient location to attach to because most showers have a showerhead and pipe that the caddy can be secured to. Other caddies are over the door caddies and hang over the shower door. These caddies are nice because they can be taken down fairly easily, maybe larger because the shower door provides a large place for the caddy to sit, and may also provide additional hooks or caddy options on the outside of the door to hand towels, robes, or other items on.
However, not all showers have a door, so these are a little less universal than the shower head shower caddies, and you want to make sure the caddy is secure on the door so that it doesn't fall off when opening and closing the door.
Other caddies are suction cup caddies. These caddies are very versatile because you can place them anywhere you want in the shower. Taller people may place them higher, shorter people may place them lower, or you may find a place out of the way to put it so that you're not bumping into it while cleaning. The drawback to suction cup caddies is that on occasion they may lose suction and fall, dumping your contents onto the shower floor. While this may not be a big deal for plastic bottles of shampoo and soap, it could damage an expensive razor- or in some instances make enough noise to make you jump or wake you up in the middle of the night.
Another style of the caddy is tension pole caddies. These caddies are very different in design than the other caddies. While the other caddies rely on finding a way to hang the caddy in the shower, these caddies use a long pole, or several long poles, to create a structure for the caddy to sit on. The poles will go from the shower floor up to the ceiling, and often have a spring inside them that pushes outward on the poles trying to make them longer. This spring tension is enough to hold the poles upright, and then shelves may be attached to these poles. They may be installed in many locations, do not fall like suction cups, do not require a shower door or showerhead, and for that reason are essential in some shower setups.
Making sure the shower caddy will work in your shower is the most essential decision when picking a shower caddy. A caddy that does not fit in your shower or work with your shower will do you no good.
Shower Caddy Material
Picking the material your shower caddy is made of is important too. While most shower caddies are made to resist rust, hold your items, and remain secure in your shower, you still need to be aware of what the caddy is made from to make sure it fits your bathroom decor, your shower accessories, and is a quality product. A stainless steel shower caddy is a popular material because stainless steel does not rust. These shower caddies look great and last a long time, so they usually cost a little more. 
Another popular metal caddy is a chrome shower caddy. Chrome caddies look great because the metal chrome is very slick and shiny. However, lots of chrome shower caddies are made by putting a thin layer of chrome over another cheaper metal. This is great because it makes the shower caddy more affordable. The downside is that your chrome may get a crack in it over time and allow water to get to the metal under the chrome and could lead to rusting. This is not a major concern though since it may take years for your chrome to develop a crack or seam in it, the chrome caddies are affordable to replace every few years, and the rust is pretty easy to remove if it does ever develop.
There is also a brass shower caddy and a nickel shower caddy. Brass should not rust since there is no iron in it, but it may tarnish and need to be cleaned. Nickel-plated shower caddies should behave similarly to the way chrome caddies do. 
There is an alternative to metal caddies though. A plastic shower caddy is made of plastic, which does not rust at all. These caddies do great in a shower because they cannot rust since they are not metal. A lot of plastic is also made very strong and sturdy so that it may be as stable as a metal caddy. Plastics are also very cheap, so a plastic shower caddy may be very affordable. The downside to a plastic shower caddy is that they may not last as long as metal because they can break or chip, and they may not look as nice as a metal shower caddy. There are also other materials such as a Mesh Shower Caddy, or Cloth Shower Caddy, which are often bags that hang in the shower that you place your items in.
The shower caddy material is important when picking your caddy, but most modern materials used in shower caddies are great at lasting for years and giving you a solid product.
Brands
Picking the Right Shower Caddy
Once you know the attachment style of the shower caddy you need to fit in your shower, and have decided on a type of material that you prefer, picking the right shower caddy is much easier. Now you just need to consider the size of the caddy, how many shelves you want, if you need the shelves to be adjustable, if there is a color you like, and if you want more than one caddy.
simplehuman Adjustable Shower Caddy, Stainless Steel + Anodized Aluminum EMW6298194 Review: Best Shower Head Caddy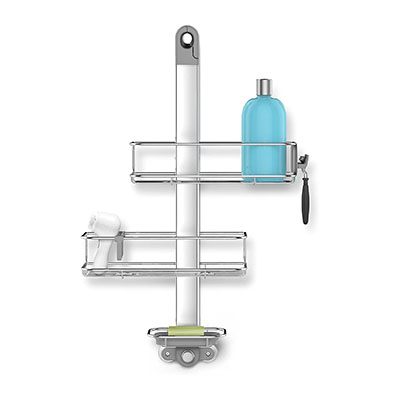 The simplehuman Adjustable Stainless Steel Shower Caddy attaches securely over the showerhead with a rubber clamp and screw. It is stabilized at the bottom with a suction cup. All three shelves are adjustable and can move up and down to make room for larger or smaller bottles, and back and forth to adjust exactly how you like them. The shelves will then lock in place to make sure they don't go anywhere. The three shelves are self-draining and have holes so you can store your bottles upside down for quicker dispensing. It has a couple of movable clips to hand razors, loofahs, poufs, or anything else on. The whole thing is stainless steel and plastic so it is 100% rust proof. This is a great caddy, and our pick for best shower head caddy. It has a great customer rating as well.
Stainless Steel
100% Rust Proof
Shower Head Caddy
Adjustable Shelves-horizontal and vertical adjustments
Self Draining Shelves
Great Customer Reviews
OXO Good Grips Lift and Lock Stainless Steel Tension Pole Shower Caddy Review: Best Tension Pole / Corner Caddy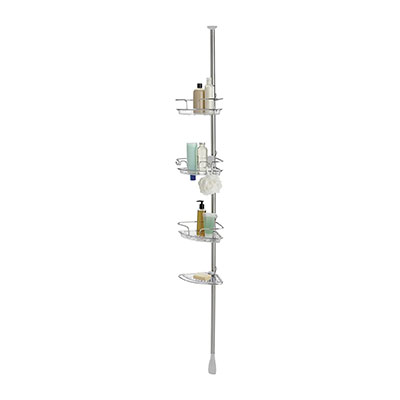 The OXO Good Grips Lift and Lock Pole Caddy extends from 5 to 9 feet and installs in minutes without any tools. It's made of stainless steel and plastic so it's 100% rust proof. It uses a lift and lock mechanism to expand and install it easily. It has a total of 4 shelves. Three of the shelves are larger, and one shelf is a little smaller. All four shelves will slide up and down on the pole, adjusting to the height you want. Each shelf has self-draining holes so you never have to worry about the water build-up. You can also store your bottles upside down on these shelves for faster liquid dispensing. This caddy has tons of great customer reviews.
Stainless Steel
100% Rust Proof
Tension Pole Caddy
Adjustable Shelves
Self Draining Shelves
Great Customer Reviews
InterDesign Gia Over Shower Door Caddy Review: Best Over The Door Caddy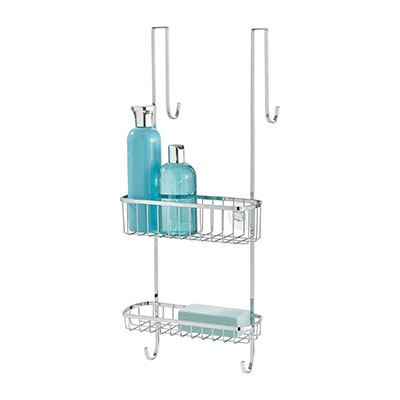 The InterDesign Stainless Steel Over the Door Shower Caddy has two nice shelves to hold all your shower supplies. It easily hangs over your shower door and stays in place due to two suction cups that keep the caddy from moving. It is made of stainless steel, so it's 100% rust proof. It has two forward-facing hooks to hold your loofahs, washcloths, or other shower items. It's got two rear hooks so you can hang a towel or robe conveniently on the other side of the shower door. The shelves are self-draining, and it's the only rust proof over the door shower caddy on our list. The other caddies, made of chrome, will all rust over time. This caddy has good reviews and will last you for years.
Stainless Steel
100% Rust Proof
Over the Door Caddy
Self Draining Shelves
Great Customer Reviews
Command BATH11-ES Shower Caddy Review: Budget Caddy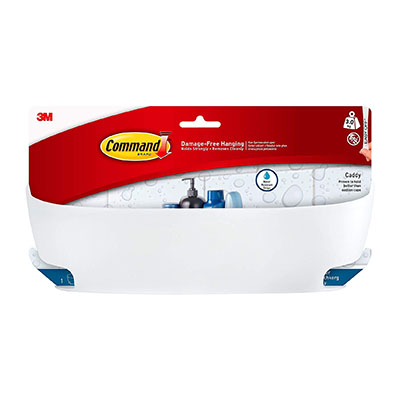 The Command Shower Caddy is a simple and great shower caddy. It's affordable, made of plastic so it's 100% rust-proof, and can attach to virtually any surface. It uses Command's special technology to adhere to the wall without using suction cups. The Command solution will hold the caddy with great strength but remove cleanly with no stains, residue, or stickiness. It will work on tile, wood, painted surfaces, or your regular shower wall. It will hold up to 7.5 pounds. It has two deeper self-draining baskets and a smaller center basket for holding soap. It also has a movable clip to hang your razor, pour, or loofah. This is ideal for a college or dorm room or any other location that you need an extra shelf.
Plastic and Command Adhesive Strips
100% Rust Proof
Self Adhesive- Install Almost Anywhere
Self Draining Shelves
Great Customer Reviews
Taymor Industries Jumbo Bath Caddy Review: Best Bath Caddy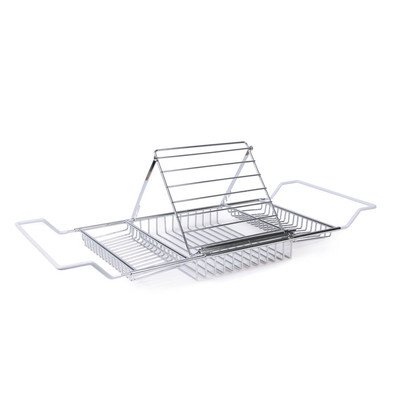 The Taymor Industries Jumbo Bath Caddy has 3 baskets to hold your bath essentials. The center basket is a deep basket, and the two side baskets are a little smaller to help sort your bath supplies. It comes with a custom book or magazine holder, so you can read and relax in the bath in comfort. It's chrome, so it's rust-resistant, attractive, and easy to clean. The baskets are all self-draining, and the caddy can expand up to 48 inches wide which will fit most bathtubs. If you love reading and relaxing in the bath, this caddy is a must-have. Now all you need is your favorite drink and some quiet time to relax.
Chrome
Rust Resistant
Book and Magazine holder
Self Draining Shelves
Expands to 48″
Last Updated: 12th Dec, 2020