Introduction
Casual wear is preferable to most men as a common fashion wear. In regard to this, men are accustomed to wearing jeans. This calls for a great selection on the most suitable belt to accompany the jeans wear. Finding the best men's belts for jeans is therefore very essential.
Moving around in a pair jeans feels better regardless of whichever occasion one is attending. Jeans keep one comfortable especially when accompanied with matching belts.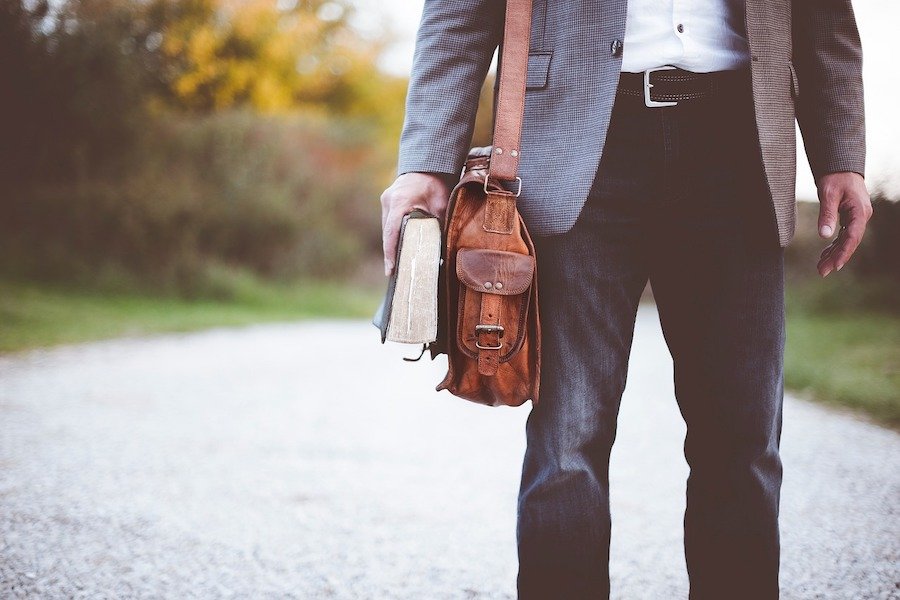 It may take time sorting out on the perfect belts suitable for jeans for a fashionable and stylistic wearer. However, if you are searching for a reliable, multipurpose belt that look good with denim, then this guide is for you. We will help you learn exactly what to look for in a belt as well as share our reviews of recommended best men's belts for jeans with you.
A Guide To Finding The Right Men's Belts For Jeans Easily
With thousands of belts available online in all kinds of styles, finding a suitable belt for your jeans can be tricky. Here you are a start guide to finding the right belt easily for men's belts for jeans.
Selecting your perfect men's belt requires thinking over some different factors. Some things such as the proper measurement. Other things like the material used, color and buckle style are a matter of personal taste. The environment in which you intend to wear it? Work, formally or informally is essential to keep in mind. Lastly, the jeans you already have will play a part in determining which type of belt would best complement your existing wardrobe.
First, determine the correct men's belt measurement for your body. Run a measuring tape around your waist, making a note in both cm and inches (different companies size their belts differently.)
Next, measure the belt loops on all the jeans you own and record the smallest width. You don't want to try on your beautiful new belt and suddenly discover the belt loops on your favorite pair of jeans are half a centimeter too narrow!
Once you have confirmed the width and length you want, you are ready to find your perfect men's belts for jeans. The material used to construct your belt is a choice between fabric, vinyl or leather.
The fabric is the cheapest and easiest type of men's belt to maintain. It is perfect for everyday activities like going to the beach, fixing up your car or gardening. You can even put the belt through the washing machine when it gets dirty.
Vinyl and leather men's belts for jeans are a step up from fabric, although vinyl is lower quality (and therefore less expensive) than leather. Men's belts are nearly always only leather. Both leather and vinyl are suitable for all occasions, whether formal or informal. To clean a vinyl belt, all you need is soap and water. Leather men's belts for jeans should be cleaned and polished with leather cleaner to keep it at its best.
What Color For Men's Belts for Jeans?
There are several colors to choose from when you are shopping for men's belts for jeans. Since, it is wise to have two or more belts for your jeans, consider choices that will make you feel comfortable and look great. A brown or black leather belt with a blue jean will definitely command attention when you enter a room. Most men do not like bright colors, but having a normal color belt with embossed buckles, and some patterns will give you an elegant and a stylish look. Light brown, red and black undertones are some of the coolest color options you can consider. You can also try out different fabric belts with different color combinations such as white and navy-blue, or red and navy-blue.
Consider your style: You will find many men's belts for jeans for virtually every color and styles. Since jeans fall into the casual group, you do not have to worry about the color or embellishments. Luckily, when choosing men's belts for jeans, you have varieties. There are so many great designs, colors, materials and decorative themes. All you need is to know your style so that you can choose a belt that will fit well with your jeans and your shirts. However, don't forget that a belt will add an extra touch to your jean.
Best Men's Belts for Jeans
Style n Craft 2-Inch Work Belt in Heavy Top Grain Hunter Leather Review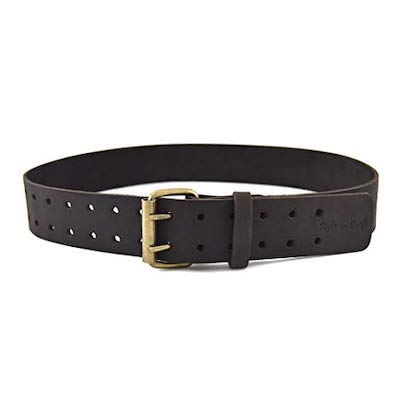 With the Style n Craft 2-Inch Work Belt in Heavy Top Grain Hunter Leather you don't have to worry about limitation any more. The heavy duty double pronged metal roller buckle adds shine to an already beautiful belt made with High-quality leather. It can easily be worn with any pants as the black leather belt is combined with the silver buckle to give an impressive look to everyone who wears it.
Timberland Men's Classic Leather Jean Belt Review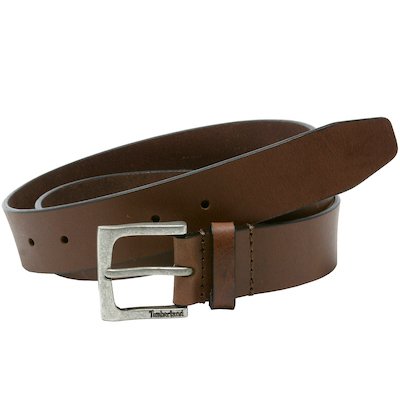 Another quality and yet affordable men's belts for Jeans under $40 in our recommendation list is Timberland Men's Classic belt for jeans. It's usually available on Amazon for about $20.  To all classy men who likes to get flashy with trendy belts should not miss this belt. Get a new taste of genuine leather belt and keep you cool and going.
Below are some of its specifications:
Genuine and rugged Leather belt, full grain and durable
Belt size is 35 mm 1.38 Inches wide
Classic Boot Jean Style with attractive buckle and eye catching timberland logo.
Tommy Hilfiger Men's Ribbon Inlay Belt Review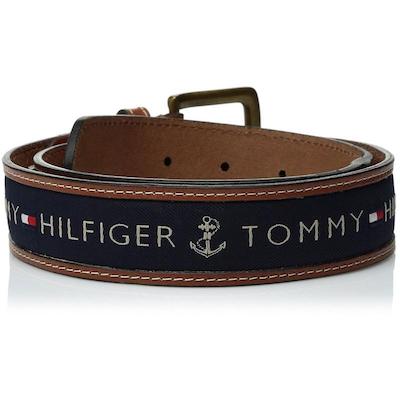 The thing I liked the most about the belt includes perfect finish and great leather quality. I would recommend it to you if you are planning to buy a belt for your pair of jeans. The wide range of colors make it perfect almost all pair of jeans. Apart from these, the brand name itself takes has the reputation of manufacturing flawless products with highest level of precision.
If you are looking for men's belts for jeans that not only looks great but feels great to touch too. This belt from Tommy Hilfiger, will perfectly fit your expectations and looks great on your jeans.
The only thing you need to take care of is choosing the right size of the belt. The company recommends that you should choose two size bigger than your usual pant size for a perfect fit and comfort. So, what are you waiting for? Choose the right size and desired color before the stocks end.
Hanks Jean Belt - 1.5" Men's Leather Belt for Jeans Review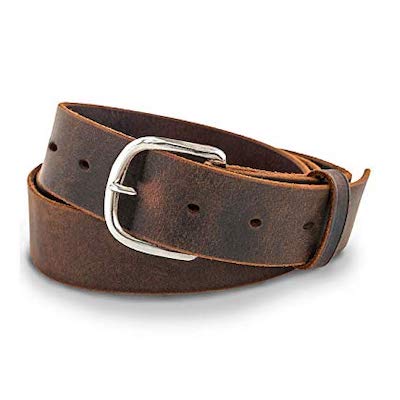 Our recommendation for quality leather belt for jeans under $100 is the Hanks Jeans Belt-1.5″ Men's Best Leather Belt for Jean. You can find this belt for men who love style on Amazon for about $50.
Below are reasons why you should go for the belt.
Best quality and long lasting: Hank jeans belts are durable design and timeless, made in United State. It's tough and resistant against cracks and splitting.
Comfortable to wear: Hank jeans belts are soft and light thus holding up your pants and moving with the body such that you cannot notice yourself wearing a belt. Unlike other stiff and cheap belt, this belt will give you the comfort you deserve during the day.
Classic and stylish: This belt is stylish and gives you a high standard outlook. You can wear it with any combinations of cloths any time.
Warranty: This Belt comes 100 year warranty. In case of any defect, be rest assured you will get a new belt in exchange.
Different colors: It comes in different colors ranging from brown, black, grey and many more. In addition to this, you can choose different buckle colors, either brown, grey and black.
Affordable: Hank jeans belts are affordable and have reasonable prices depending on their features and quality.
Heepliday Men's Casual Genuine Leather Belt for Jeans Review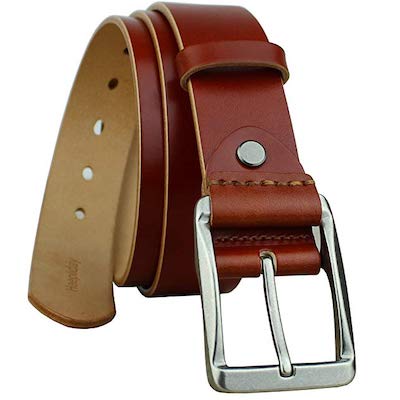 What stands out about this belt is the fact that it is made from 100% genuine leather. Due to this fact, one is sure that the belt will serve you for a long time before you call it quits on it. Moreover, the belt is non-scratchable hence it can maintain the new look for long.
Furthermore, the belt comes in two styles for different occasion wear. There is the soft and full grain leather that has a more natural look and the thick and top grain for men. Moreover, the belt comes in a variety of colors for you to choose from that are brown, black and coffee hence giving you choice especially if you want to wear for different occasions, let's say a wedding ceremony.
The belt bottom is very smooth to provide a comfortable strap in on your trousers. Also, the edges are made so well that handling the belt on the waistline becomes so easy and less troublesome especially when you are in a hurry. And if you are a man who is always in a hurry on weekends, heepliday becomes the best men's belt for jeans that you could wear.
I would recommend anyone for this belt especially if you are looking for a gift to give to your friend, and if its quality you are looking for, the heepliday is just the right product for you.
Mens Heavy Duty Dark Chocolate Brown Leather Review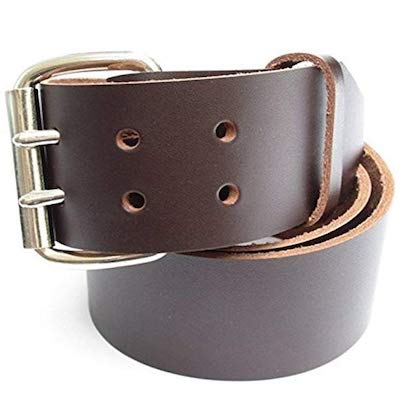 Our next pick for 2 Inch Wide Men's belts for jeans is this new and trendy belt with a perfect leather finish, Mens Heavy Duty Dark Chocolate Brown Leather Belt 2″ Wide.
The best part about this belt is its robustness. The steel buckle is easily detachable if you want to attach your favorite buckle. The belt grade is tanned in the USA and cut from your own shop. The width of the belt is 2″ and thickness is about 1/8 with a delightful Bison Brown color, with a shade of Dark Chocolate Brown. This belt is a sturdy piece of leather, which avoids wear and tear like belts made from cheap, shoddy leather.
It will be an excellent choice for a rugged and robust belt, which is also suitable for holsters and pouches. The belt is heavy duty belt meant to last.
Hanks CCW Belts - The Marshall - Concealed Carry Gun Belt Review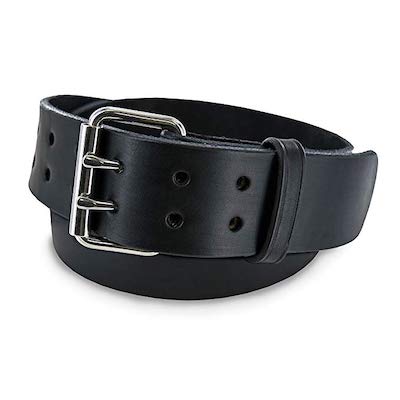 Walk the streets The Marshall style. This Amish Belt suits your needs perfectly. It is 2 inch wide, built with extra heavy leather for amazing strength and durability. It is specially made with rugged full grain leather for carrying your firearm easily and unnoticed. The default buckle itself is very elegant and classy. It can be changed, in case you feel like. The belt is cobbled up by Chicago Screw, ensuring that the belt doesn't come apart even after tough and rough use. The belt has original dual hook Garrison style, which adds to it's panache while maintaining the macho look. It won't ever miss shape even at the end of the day because of the two holes.
If you're looking for a strong yet flexible, classy yet masculine belt that can also help you carry your firearm, the Hanks – The Marshall is just the thing for you. This belt is going to be your legacy!
Bulliant Slide Ratchet Belt for Men Review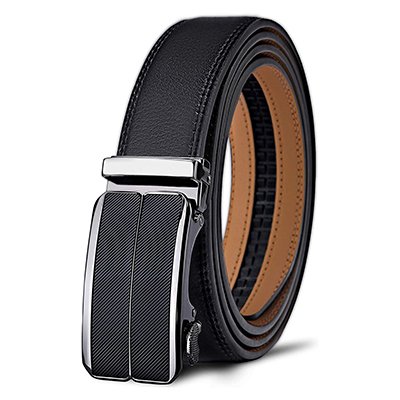 This is yet another high-quality men belt made from genuine leather. What makes this belt stand out from other leather belts is how adjustable it is. Forget about the holes that can limit the waist size! This belt has 32 ratchet notches that enable you a 1.25-inch micro size adjustment. If you're someone who's waist is known to fluctuate a lot, this might be the perfect belt for you.
As it's made of leather, this belt is also rather durable. It's flexible and firm at the same time. The buckle is made of zinc alloy, and a high-quality coating offers scratch resistance. It will last you for a very long time. I also have to mention the wide variety of different colors and designs this belt gives you. No matter what your style is, you are sure to find a model for your liking.
The only downside of this belt is that it's a bit more on the expensive side, but the price point isn't surprising for a fine leather belt.
Last Updated: 27th Dec, 2020