Introduction
A pregnancy pillow is a supportive maternity pillow that helps keep mum and bump comfortable during pregnancy.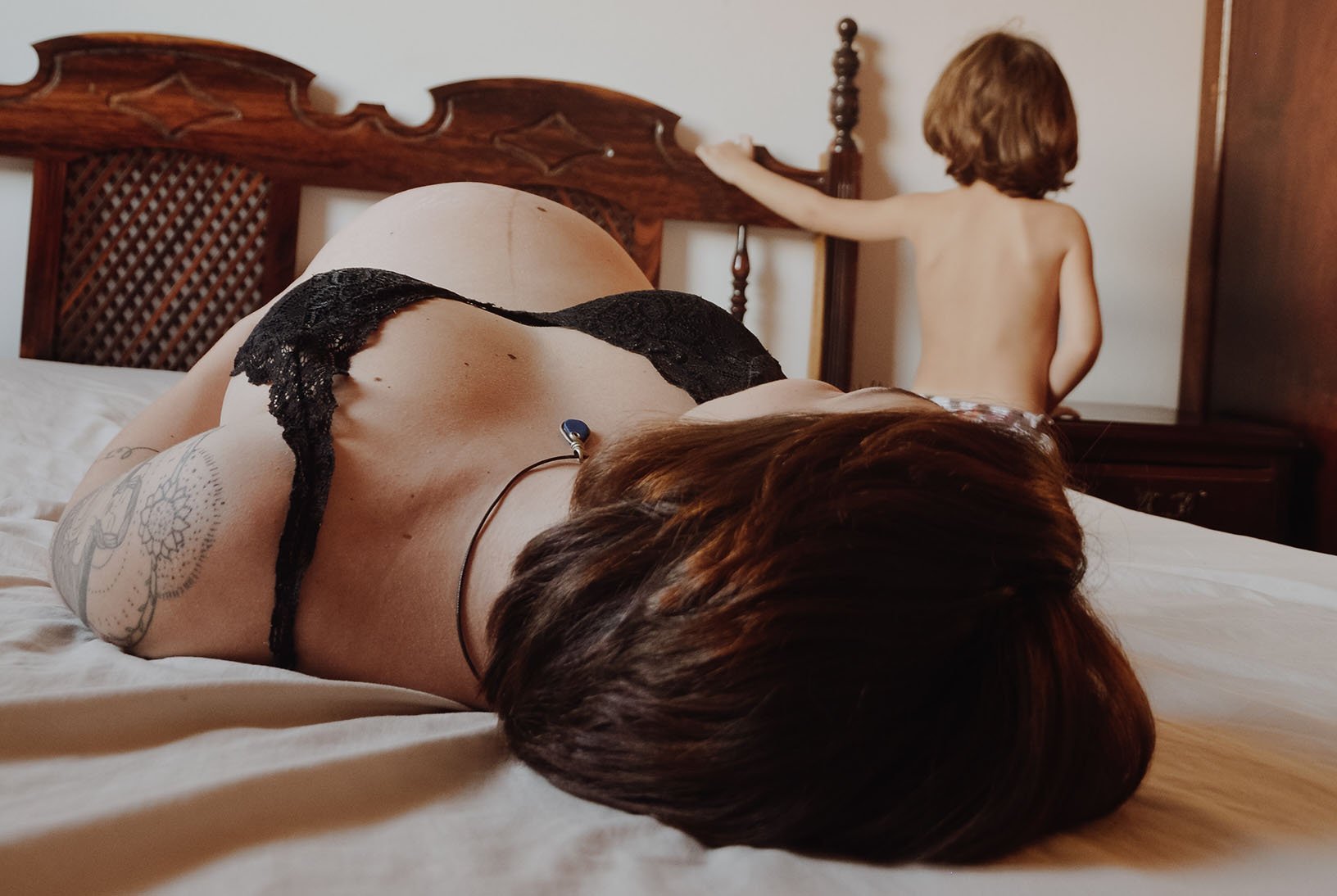 As a mother of three, I decided to post this guide as a resource for other expectant mothers who can benefit from a pregnancy pillow. With so many different maternity pillows on the market, it can be confusing knowing which one is right for you. I have outlined all of the factors you need to consider, helping you buy the best pregnancy pillow for you. You will find my own reviews of all of the styles from popular brands, including:
Pregnancy Pillow Buying Guide
Several factors must be considered when purchasing the best pregnancy pillow for you, just like any other important purchase that you make. Even though purchases often come from referrals, it's still best to think about your unique needs and what factors will or won't meet those needs. In other words, what worked for your neighbor or best friend may not work for you! I learned this lesson the hard way, as I purchased the first pregnancy pillow that a friend recommended to me. After using it, although I liked it, I regretted not doing more front-end research before buying (especially after trying other pillows!). Luckily, there are only a few critical key factors to consider to find the best pregnancy pillow for you. These factors range from the material that the pillow is made from to the size of the pillow and through to how much it costs. This section will help you identify what's most important to consider when finding the best pregnancy pillow.
Material Type
A pregnancy pillow generally has two to three parts: the removable cover (optional), the outer shell, and the inside filling. The material type reflects the quality of the pillow. Look for a pillow that is phthalate free, latex free, lead free, and BPA free to avoid unnecessarily exposing yourself (and baby) to potentially harmful chemicals. There's loads of research to prove that what comes into contact with mom's skin is transferred to the growing baby, so be mindful of avoiding low-quality material.
Filling
With the expansion of pregnancy pillows on the market, many different filling types are available. Note that the most common is polyester or polyester fibers, as seen in all of the reviews above. The reason polyester is so popular is because it's easy to bend, shape, and squish. This makes the pregnancy pillow more pliable and thus, easier to use for a diverse range of women. On the more natural end of the spectrum are the filling types wool, spelt, and kapok. Do note that natural and organic don't mean the same thing, and even these material types may be produced synthetically! Just be sure to research if that's an important consideration for you. Finally, memory foam is becoming more popular as a filling, thanks to its ability to conform to all body types. But, memory foam is also more firm than traditional polyester filling, so consider the density you prefer in a pregnancy pillow.
Washable Cover
This is important for obvious hygiene reasons and even more so important if you plan to use the pillow with a newborn. After all, small babies are notorious for spitting up! But what's even more important to consider with the removable cover is the difficulty level for putting it back on. I've had to enlist the help of my spouse many times in order to get the pregnancy pillow cover back on after the wash. This can be annoying, but it is the reality for some of the bulkier pillows. This is generally not an issue with the smaller pregnancy pillows.
Hypoallergenic
Because of unpredictable hormones and physiological changes, pregnancy can make you more susceptible to allergies and their side effects. Many women experience an increased sensitivity to allergens while they are pregnant. Newborn babies can also be more affected by allergies than adults. For this reason, consider getting a hypoallergenic pregnancy pillow.
Size
I know I touched on this in most of the reviews, but it's worth mentioning again. Many women (or their partners) end up disappointed in their pregnancy pillow because it is so big or because it takes up too much space. Consider your bed size and your sleeping arrangement here. Remember, you do not want a pregnancy pillow that is so large that it takes up too much space on your bed. No one will get a restful night of sleep then!
Weight
On average, pregnancy pillows range from just a few pounds to up to 8-10 pounds. Heavier pillows can feel bulkier and be more difficult to maneuver. The best pregnancy pillow should be somewhat portable. That makes it easier to handle if you are cleaning the cover or altering the shape. The type of filling and weight of the pillow go hand in hand. While polyester fibers are the lightest type of filling, memory foam is the heaviest. Be sure to choose a weight that is manageable for you.
Firmness
The firmness of the pillow is mostly about preference, but it can also make a difference if you need a certain amount of support. For example, if you're looking to alleviate your sciatica, you'll likely want a more firm pillow to provide ample support for the hips and low back. If you're just looking for a more comfortable night of sleep, then firmness is dependent on personal desire.
Price
Although this is often the most important factor for many women, there is really a lot of flexibility in the price range. The smaller/compact pregnancy pillows start around $30 while the most expensive type usually tops out around $75-$80. If those prices are still too steep, a regular body pillow can be as cheap as $15 or so at your local big box store. As with anything else, the cost correlates to the quality. You get what you pay for. A premium pillow gives you full-body support whereas a cheaper alternative offers limited support. So, how should you decide how much to shell out for your pregnancy pillow? Consider the reviews, what you normally pay for products, how important is a good night's sleep, and whether you'll use the pillow after baby is born. These personal factors should be a good guiding compass to help you find the right cost.
Best Pregnancy Pillow – Top Picks & Comparison
For all of the joy that pregnancy brings, it also brings its share of adjustments. Growing a human is serious work! But luckily, there are many genius innovations that make being pregnant more comfortable than ever. One of those innovations is the pregnancy pillow. It is a pillow that's specifically designed to accommodate growing baby bumps.
The best pregnancy pillow is dependent upon many factors, but they all benefit everyone who sleeps in the bed. After all, it's difficult for a significant other to sleep well when their pregnant partner is tossing and turning.
The growing baby also benefits, as the best pregnancy pillow is one that provides abdomen support through each trimester. Other benefits include: reduces neck pain, helps regulate body temperature, and improves moods thanks to better sleep quality. The market is full of many kinds of pregnancy pillows, so this guide of maternity pillow reviews will help you to determine the best pregnancy pillow for you.
Leachco Snoogle Chic Jersey Total Body Pillow Review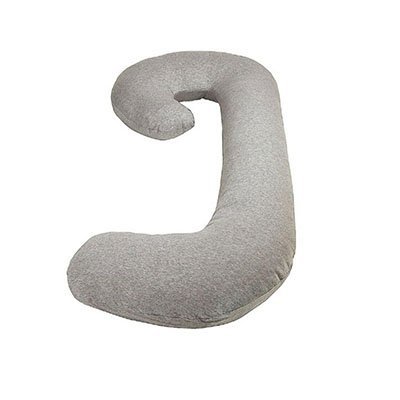 The Leachco Snoogle Pregnancy Pillows comes with major brand recognition as the best pregnancy pillow (it's #1 in Amazon's body pillow reviews). Because of its popularity, this is the first maternity pillow I tried. It definitely made an immediate difference in my quality of sleep – and my mood! It is lightweight, easy to form into different shapes, and provides back, neck, and belly support. As a taller woman (5'9), I found this pillow to be the perfect size for me. It may be a little too long for women under average height, or shorter women may need to fold it in different shapes. Because of its horseshoe shape, the Leachco Snoogle pregnancy pillow does take up a significant amount of bed space. I slept comfortably in a queen size bed with my partner, but a bed smaller than that may be a squeeze. Despite critical reviews on Amazon, I never personally had issues removing the pillow cover to wash it. But, I can see how the length and shape could make it difficult to put the cover back on. All things considered, the Leachco Snoogle pregnancy pillow is one of the best pregnancy pillows and deserves to be at the top of maternity pillow reviews.
Specifications
Size: 60 x 24.8 x 7.2 inches
Weight: 3 pounds
Material: Detachable washable cotton case; filled with polyester
Pros
Eliminates the need for multiple pillows
Lightweight, pliable material
Helps transition to side sleeping
Cons
Takes up a lot of space
Cover can be difficult to remove/put on
PharMeDoc Pregnancy Pillow with Jersey Cover, C Shaped Full Body Pillow Review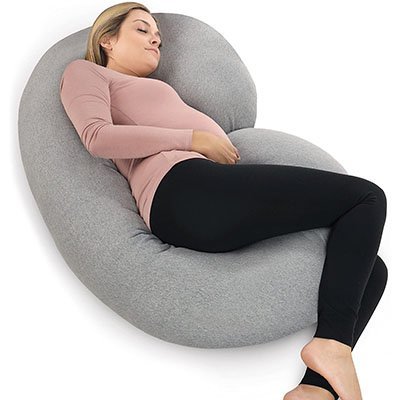 The PharMeDoc Pregnancy Pillows looks similar to the Leachco Snoogle pregnancy pillow, but it is a bit shorter and shaped like a "C." It also is a bit more dense, as it weighs four pounds more than the Leachco Snoogle pregnancy pillow. I personally prefer a more lightweight pillow. But, if you prefer a heavier pillow (similar to memory foam), then this may be the best pregnancy pillow for you. I really appreciated the science that went into the design for even weight distribution. Its ergonomic design also makes it ideal for women of any height. I did feel well supported while using this pillow. Similar to others, it can be a bit cumbersome and difficult to move. I also felt that it was a bit less pliable and harder to bend into different shapes. But all things considered, this is one of the best pregnancy pillows available, and maternity pillow reviews prove it! This is the best pregnancy pillow according to Amazon's maternity pillow reviews.
Specifications
Size: 24 x 24 x 4 inches
Weight: 7 pounds
Material: Detachable washable cotton case; filled with polyester
Pros
Feels sturdy
Ergonomically designed
Easy to remove the cover
Cons
Density makes it a bit cumbersome
Requires repositioning/harder to roll
Today's Mom Cozy Comfort Pregnancy Pillow Review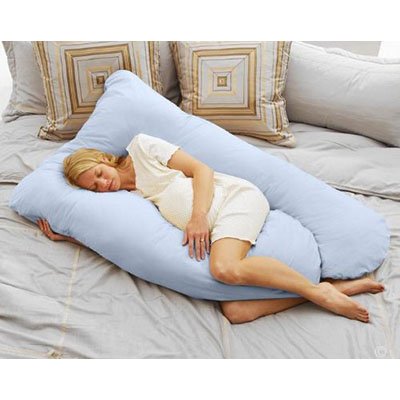 Out of all the maternity pillow reviews, this one has some of the most mixed sentiments. Some people love it, but others had a terrible experience, largely due to customer service. It's important to know that you cannot return this pillow or get any kind of credit/refund. In my experience, Today's Mom Cozy Comfort Pregnancy Pillow was okay short-term, but it flattened out with repeated use. It is big – the heaviest out of all the pregnancy pillow reviews – and took up half of my queen-sized bed. I really liked the amount of space for my head to rest, and I thought it was very supporting during nursing. I also sleep with my arm under the pillow and found this to be one of the best pregnancy pillows for that type of sleeping. I also agree with other pregnancy pillow reviews that the material that covers this pillow is a bit scratchy. However, that can easily be mitigated. You can wrap the pillow in softer material or even an old t-shirt. Lastly, because of its large size, this is the best pregnancy pillow for major cuddling.
Specifications
Size: 56 x 9 x 32 inches
Weight: 10.1 pounds
Material: Detachable washable cotton case; filled with polyester
Pros
Curve-shaped shoulder support design contours to the shoulder
Large square head rest area
Excellent for breastfeeding
Cons
Heavy and takes up a lot of space
No returns/refunds/credits from company
Leachco Back 'N Belly Pregnancy/Maternity Contoured Body Pillow Review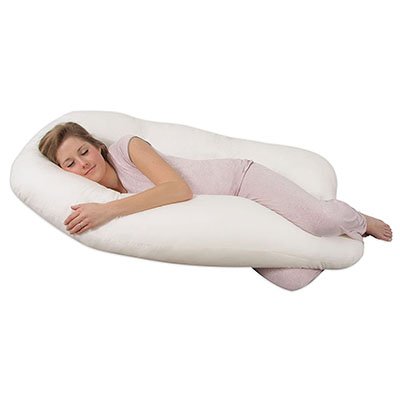 Upon first looking at the Leachco Back 'N Belly Pregnancy Pillow, I thought the design was genius and couldn't wait to try it. I loved how the inner curves of the pillow contoured to the pregnant woman's curves. But for me personally, because of my height, this is not the best pregnancy pillow. As I mentioned above, I'm a tall woman (5'9) and felt that my legs are too long for maximal comfort. So shorter women, take this maternity pillow review with a grain of salt; it may be great for you! Another thing to consider about this pillow is that it weighs seven pounds, so it's a bit bulkier and more dense. This shouldn't be a concern if you have plenty of bed space and like dense pillows. But aside from those factors, it's one of the best pregnancy pillows. It's especially great for those who have SI joint issues, sciatica, or fibromyalgia, thanks to its unique U-shaped design with contours. Another great feature of this pillow is that it doesn't require much repositioning; you can simply turn from side to side and still experience the same body support.
Specifications
Size: 51 x 33.5 x 8.8 inches
Weight: 7 pounds
Material: Detachable washable cotton case; filled with polyester
Pros
Hourglass shaped curves support your entire back and belly
Aligns hips for neutral joint positioning
No repositioning required; simply turn from side to side
Cons
Bulky material
Uncomfortable neckline sewing
Boppy Slipcovered Total Body Pregnancy Pillow Review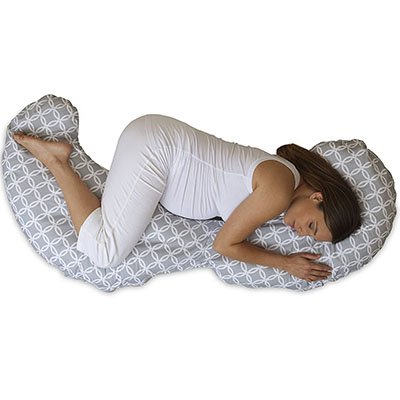 Hands down, the Boppy Slipcovered Fit Pregnancy Pillow has the best pregnancy pillow design. It comes with three detachable pieces that can be maneuvered and arranged for specific functions. For example, you can use it all as one piece to provide total body support. Or, you can take it apart and give yourself extra back/hip support. Because of its versatility, it doesn't have the same limitations I've written about in other pregnancy pillow reviews. A woman of any height could find ways to be more comfortable using this pillow. But like others, I found this pillow to be not as "fluffy" as I'd like to provide firm support. If you cull through pregnancy pillow reviews on Amazon, you'll see this gets marked down because of the lack of stuffing. If you use it for any extended length of time in the same position, the filling can go flat. It's usually alleviated with extra fluffing or repositioning the fibers, but it's worth pointing out. In certain positions, this pillow can also be difficult to reposition/roll over during sleep. Because Boppy brand is well-known for their nursing support pillows, I found this to be one of the best pregnancy pillows for breastfeeding support.
Specifications
Size: 16.7 x 15.7 x 12.8 inches
Weight: 5 pounds
Material: Detachable washable cotton case; filled with 100% polyester fibers
Pros
Flexible three-piece design allows for extra versatility
Designed by a physical therapist
Provides full body or targeted support
Cons
Not very "fluffy"
Difficult to roll over with
Leachco Snoogle Mini Pregnancy/Maternity Compact Side Sleeper Review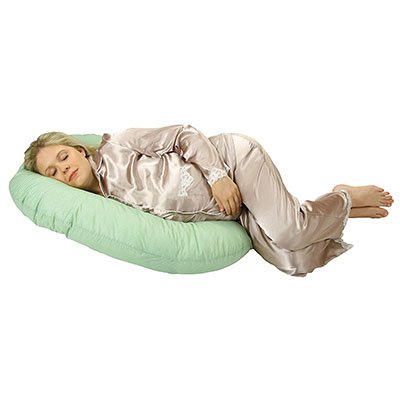 So, you all know by now that I'm tall. After reading maternity pillow reviews and seeing this as a mini pregnancy pillow, I felt skeptical. But after trying it, I must say it's one of the best pregnancy pillows for targeted support. This pillow is great for people who suffer from specific lumbar pain, SI joint pain, or sciatica. It's shaped like a horseshoe, and I definitely felt like it supported my hips very nicely. Yes, I had to use a separate pillow for my head, but it was nice to have a pregnancy pillow that didn't take up the entire bed. This is definitely the best pregnancy pillow for someone who does not want a massive pillow. I'm not totally sold on polyester fiber filling. It's fluffy, but it doesn't feel like it offers firm support. With that said, it's very lightweight which makes it easy to move. I also used this pillow to prop up my newborn when he was having acid reflux issues. I also used it for breastfeeding support. Because of all this functionality, it's one of the best pregnancy pillows in regard to versatility.
Specifications
Size: 27.8 x 21.8 x 7 inches
Weight: 2.7 pounds
Material: Detachable washable cotton case; filled with 100% polyester fibers
Pros
Targeted support for belly, back, and hips makes for a great corrective pillow
Fits comfortably in queen-sized and bigger beds
Great pillow for newborns and nursing support
Cons
Smaller and requires multiple pillows to be used for sleeping
Fluffy but not firm
INSEN C-Shaped Pregnancy Pillow Review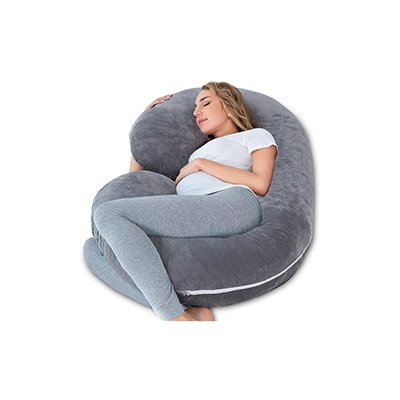 The INSEN C-Shaped Pregnancy Pillow is one of those pregnant pillows that people who aren't pregnant love to use, as well. And after trying it, I can confirm that this indeed is one of the most comfortable pillows I have ever used. It highly improves my sleep quality and helps me get more rest. With it, I can finally awake without those terrible back pains. It feels like having six pillows on your bed, with one advantage – they don't run away once you lean against them. My husband and sister also enjoyed this pillow, which is proving its benefits go beyond pregnant women – although I intend to be the main user. It does take a lot of space, but as I don't need any other pillows while using it, I am not complaining. However, if you sleep in a smaller bed, your husband might have some issues sharing it with you. Some people reported having issues with double zippers, but I never experienced any problems with them.
Specifications
Size: 58 x 28 x 7.8 inches
Weight: 5.8 pounds
Material: Polyester
Pros
Very comfortable
Ergonomic shape
Helps relieve body pain
Cons
Takes up a lot of space
Zippers aren't of the highest quality
QUEEN ROSE Pregnancy Pillow Review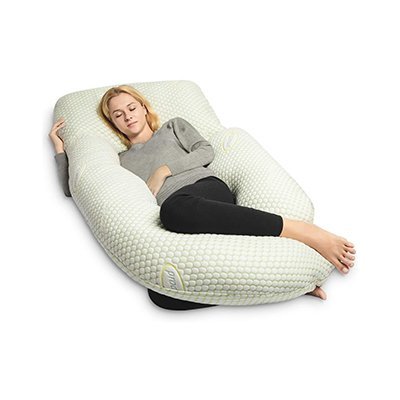 If you find U-shaped pillows work the best for you, you should definitely give QUEEN ROSE Pregnancy Pillow a try. This is a pillow that can provide comfort for your entire body, but also if you are suffering from some painful conditions such as chronic back or hip pain or fibromyalgia. It comes in two sizes, which is great as it is quite bulky and heavy. The smaller size worked better for me, and I have a huge bed! Luckily, it will rest well on your bed and it can adjust a bit for your body, so after the first use you won't mind its size too much. Just keep in mind that the pillow can be a bit of a pain to get on and off of, but again, this is something that does take a bit getting used to. The pillow won't become fat, no matter how much you've used it. You can remove parts of the filling, making it versatile and up to your preferences. The huge variety of colors the manufacturer gives is a nice choice, so I could easily pick one that goes with my purple tapestry.
Specifications
Size: 23.74 x 17.32 x 5.31 inches
Weight: 9.26 pounds
Material: Cotton and polyester
Pros
Durable and sturdy
Comfortable
Versatile
Cons
Rather big
Takes some getting used to
Different Types of Pregnancy Pillow
To find the best pregnancy pillow for yourself, you need to know the differences in types of pillows. With their recent surge in popularity, the market is exploding with new options on a daily basis. Because we all have such diversity in body type, shape, height, aches, pains, bed size, and more, the best maternity pillow type is not standard. To save you from reading loads of pregnancy pillow reviews, I've broken down the types of pillows available below. I've also shared the pros and cons for each type, based on my personal experience. Keep in mind that the best pregnancy pillow for you may not be what is best for me! Consider your individual preferences when determining what type you'd like to buy.
Total Body
The Total Body pregnancy pillow category is essentially what it sounds like. It provides support for mum and growing baby from head to toe. This type is the best pregnancy pillow for mothers-to-be who want to simply use one pillow. A total body type requires that you have plenty of room in your bed (other than the "mini" versions, discussed below) because they are generally 5-6' in length.. Depending on the shape, you can generally arrange total body pregnancy pillows into various positions to accommodate a range of needs. It tends to be more versatile than competitors in other pregnancy pillow reviews, and it accommodates all body shapes and sizes. Here are the subcategories:
C-shaped
The C-shaped pregnancy pillow has a long rectangle as the main structure and curved edges toward the head and the feet. Yes, it looks like a "C"! This is the best type pregnancy pillow for those who need extra spinal support. The long bridge of the pillow is to be situated along the spine while the curved edges support the neck and legs. It is appropriate for women of all body shapes and sizes.
Pros: Provides relief for back pain
Cons: Does not provide belly support; big and maybe bulky
U-shaped
An all-encompassing pillow, the U-shape types looks as the name suggests as it's almost a full circle of padded goodness. This means that the U-Shape hugs both the back and the belly, creating the ultimate cradle of support for mom and baby. Often, this type of pillow has contoured curves in the inside of the "U," making for an even more comfortable night of sleep. These contours appropriately support the hips in addition to the back and the bump. This is the best pregnancy pillow type for mothers looking for full-body support.
Pros: Offers full-body support
Cons: Requires more bed space than any other type
J-Shaped
J-Shaped pregnancy pillows are very similar to the C-Shaped pillow type. The main difference is that while the "C" has two curved edges, the "J" has only one. The J's curved edge can be used either tucked between the legs or as extra neck support. For this reason, a J-shaped pregnancy pillow could be used in addition to a head pillow or a second pillow for the legs. You get slightly less total body support in this pillow type, but that isn't necessarily a bad thing.
Pros: Offers spinal support and requires less space
Cons: May need an additional pillow to supplement it
Mini
Smaller versions of the pillow types reviewed above, a mini offers targeted support as opposed to full body support. Or, if you are a petite woman, then a mini may be the perfect full body solution for you! This is the best pregnancy pillow type for women who have specific issues to address (think: sciatica) or lack the bed space for a full size version. Because of their smaller size, mini pregnancy pillows are usually easier to use for nursing or for holding the newborn as well.
Pros: Allows for targeted, specific support without the bulk
Cons: Requires supplemental pillows for most comfort
Wedge
A wedge pregnancy pillow is a small round or triangular wedge shape that is designed to go under the belly or back, or between the legs. It can be useful to cushion and "prop up" the bump to alleviate back pain, or it can simply provide extra support for the back. The wedge pregnancy pillow also can be tucked between legs to help align the hips, which is great for low back pain, pelvic discomfort, sore legs, and more.
Pros: Small and compact so it doesn't interfere with partner's sleep
Cons: Provides limited support to one small area, so other pillows are needed
Full Length
The most generic type of pregnancy pillow, the full length type is a long, straight rectangle that's more commonly referred to as a body pillow. It's typically a straight spread of support for the front side or the back side. A flexible version, however, is available so that it can be bent and contoured into different shapes. But both versions do pretty much the same thing. They offer full support for either side of the body but will still probably require more pillows be used. The upside to this is that full length pregnancy pillows do not require as much room as other total body type pillows.
Pros: Great support to space-required ratio
Cons: Requires supplemental support pillows
Pregnancy Pillow Benefits
To help you navigate the world of maternity pillow reviews, I am going to thoroughly discuss the benefits of pregnancy pillows. Although common knowledge applauds them for making sleep more comfortable, there are many more benefits. And, the benefits aren't only felt by mom. They extend to anyone sleeping in the bed, as well as the growing baby bump! These benefits can extend beyond pregnancy to everyday use for specific support and to help reduce general pain. Pregnancy pillows can even help improve your daily mood! Fully understanding all of the benefits will help you find the best pregnancy pillow for you.
Reduces pregnancy hip or back pain: To understand this benefit, one must first understand why hip and back pain exist during pregnancy. The most obvious reason is the redistribution of weight. The emphasis on the growing belly requires the back muscles to stretch and support new weight in a very specific way. This affects all movement, as well as sitting and sleeping, and can even pull the pelvis out of alignment. The pregnancy pillow allows support for those back muscles that are working overtime. By taking pressure off of the back muscles, a natural reduction in pain follows.
Provides bump and back support: As mentioned above, a mother-to-be's body goes through some amazing and impressive changes to grow a human. A pregnancy pillow adds a layer of cushion and support to the bump and/or to the back to help support and ease the organic process. Why do it alone when you can have a pregnancy pillow? This will also make for a more comfortable sleep for baby. A pregnancy pillow properly situated under the bump can create the perfect sleeping position for baby. Although mom will feel more direct benefit from extra back support, the bump should feel more comfortable in general when less pressure is on the back.
Improves sleep (you and your partner): If you haven't heard it from all of your friends, here it is from me: rack up on your sleep while you can! Seriously, once baby comes, a peaceful night of sleep is increasingly difficult to find. Pregnancy is the perfect opportunity to seize a revitalizing night of rest. But without a pregnancy pillow, sleep may not be so comfortable thanks to the body changes. If sleep isn't comfortable for mom, then it likely won't be comfortable for her partner! Pregnancy pillows help eliminate the tossing and turning and allow for a restful night.
Helps to regulate your temperature: Speaking of tossing and turning, did you realize that your body temperature fluctuates in proportion to how much you move? Especially since you'll be weighing more with pregnancy, you're more likely to get hot and sweaty with your tossing and turning. That feeds into the poor quality of sleep cycle (who wants to be hot and sweaty in bed?). A pregnancy pillow alleviates this contributor to restless nights by cutting out the tossing and turning. With less movement, you get to literally chill out and enjoy a regulated body temperature.
Supports multiple sleeping positions: Most pregnancy pillows can be maneuvered to support different sleeping positions. If you were previously a back or stomach sleeper, it will be important for you to experiment to find the most comfortable side sleeping position. As the bump grows, side sleeping is mandatory, but arm and leg position varies. Your pregnancy pillow will shift as you please to help you find what feels most comfortable. The amount of versatility the pillow can offer depends on what type you buy. For this reason, you may want to consider your selectiveness as a sleeper. Here's what I mean. I personally can fall asleep under most conditions and in most places, so having a pregnancy pillow with all the bells and whistles wasn't important to me for this reason. However, if you are finicky with your sleep, you will need a pillow that can offer up more positions to find what works best for you.
Improves your mood: Pregnant women have to deal with so many things related to their mood. Hormones are out of control, and adjusting to growing a human is serious business. Sleep deprivation is the icing on the proverbial bad mood cake (for you and/or your partner). Sleep and mood are intricately linked, as many mood changes can be contributed to quality of sleep. But a pregnancy pillow helps mom, baby, and partner have easy, restful nights that lead to happier days and cheerier moods.  
Can be used after delivery: I know I've mentioned this in the reviews above, but it's worth talking about again. A pregnancy pillow does not lose value once the baby is born. Not only do many moms love their pillow so much that they use it after delivery, but they also use it for their newborn. For example, many of the pregnancy pillows can be used to create additional support for breastfeeding. Because my newborn had acid reflux, I used my pregnancy pillow to prop him upright and alleviate his discomfort. I also allowed him to practice sitting up with the support of the pillow (once he was old enough, of course). Based on the shape of the pregnancy pillow, you may even be able to create a "nest" for baby who wants to co-sleep with mom and dad. Don't throw your pregnancy pillow in the closet once baby arrives; it really will come in handy!
Last Updated: 30th Jan, 2021