Introduction
Simply by placing the breast shield/flange over the nipple and squeezing a handle or pumping a piston, you can express the milk. These types of breast pumps are designed for very occasional use – once or twice a week.
Unlike an electrical pump, a manual breast pump may feel more natural and a more convenient size. These simple pumps suction rate are generally more easily controlled thus reducing discomfort. Once the suction cup is placed over the breast, working the pump by squeezing the handle creates a rhythmic vacuum. Hand pumps are generally more affordable, smaller and lighter than electric pumps. With a manual pump, because it's a lot quieter, there won't be any motor noise to disturb baby if he's nursing on one breast whilst you're pumping on the other.
Also, as it's a cheaper option once you buy it there wouldn't be any hidden costs like electric and fewer parts to clean and sterilize. A manual pump is ideal for pumping on the go. In places where electricity may not be available, handbag compatible, it's easy to transport anywhere.
If you're away from home, expressing every now and then and looking for a low-cost option then a manual pump is the best option for you.
If you're not used to pumping/expressing, these pumps can be difficult to master until you find a regular rhythm although many manual breast pumps come with accessories to make them easier to use. Some manual pumps include bottles that you can express your breast milk straight in to. Having more than one bottle allows you to express and store extra in one sitting.
Advantages of using manual breast pumps
Easy to carry and store
Cheap, cost-saving option.
Can feel more natural and have a calming effect
Quiet
Disadvantages of using manual breast pumps
Difficult to master
Aching in hands/wrists
Slow pumping
Time consuming
Brands
Best Manual Breast Pumps Reviews
Lansinoh Manual Breast Pump Review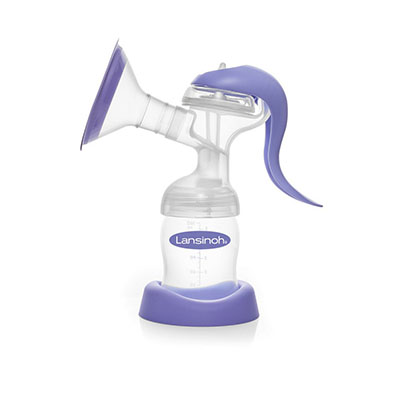 This pump is a must-have for all new mothers who plan on breastfeeding. It features two modes, stimulation, and expression as well as two size flanges for ideal suction and fit. This enables the mother to switch easily between the two pumping modes, to aid in let-down and maximize pumping efficiency. This can be implemented by use of a simple switch at the top of the handle.
The two size flanges that come with the aesthetically pleasing pump, are standard (25mm) and large (30.5mm), which ensures the mothers ideal suction and pumping comfort.
As manual breast pumps get a bad reputation for aching wrists and hands, it has designed and implemented an ergonomic easy-express handle which reduces hand fatigue.
Compatible with Lansinoh Momma bottle, it has flanges with natural wave nipple to mimic a newborn baby sucking actions and comes with Lansinoh breast milk storage bottles for easy storage.
Convenient and portable, the Lansinoh manual breast pump is ideal for occasional use at home or on the go. The wide neck bottle makes milk transfer easier and is compatible with the natural wave nipple so you can pump, store and feed, all with the same bottle.
Its dimensions are7.8 x 7.6 x 4.1 inches so very compact and easily handbag transferable. Designed for ease of use, Lansinoh's manual breast pump provides a discreet and convenient way of expressing while on the move, with no need for batteries or an electrical source.
Includes custom bottle stand – for securing bottle and preventing spills.
Simple and easy to clean, assemble and to use, it comes with few parts.
Pros:
All parts of pump are dishwasher safe
Pump is both BPA and BPS free
Portable
Well made
Cons:
Not having the same constant flow like you do with an electric one
May be expensive compared to other brands. But that's relative to the mother's preferences
Tommee Tippee Manual Breast Pump Review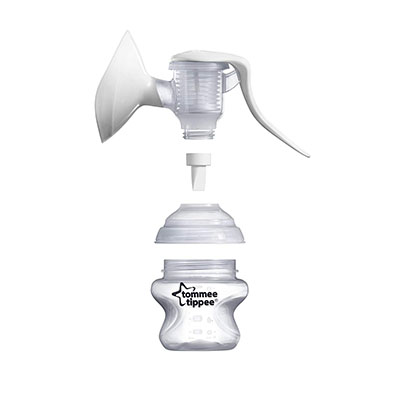 This Closer to Nature manual breast pump is perfect for those mothers who want a quiet, discreet and easy to control the pump. It's lightweight, being 1.06 lbs, and compact ensuring you achieve just the right level of suction whilst traveling or occasional expressing. Ideal for times where electricity is not available.
This portable pump provides all the mother needs to express, protect, prepare and feed. So, the baby will have all the benefits of breast milk, even when a mother is not there. This gives the father or whomever else a chance to bond with the baby. This small and discreet pump screws directly onto the bottle that is provided ensuring that storage is easily manageable. It also can attach to the storage pot and is also one of the few manual pumps available that can attach directly to a milk bag allowing for storage to be even more effortless.
Manually operated, this small pump does not take up much space at all. (Dimensions being: 4 x 4.5 x 8 inches.)
It comes in three parts making it easy to assemble and dissemble. Thus, easily detachable saves time washing up.
With its flexible silicone, soft cup, it will make expressing feel natural for it has massaging ripples, designed to mimic your baby's sucking action. Encouraging let down and ensuring comfort for the mother.
Pros:
Brilliant for relieving soreness/engorgement
BPA-free for added peace of mind
Good value for money
Quick results
Comes with a handy sterilizer box
Cons:
May not create a tight enough suction
The hole where the nipple fits may not be large enough for certain women
Not a dual pump so only one breast can be expressed at a time
Can make hand/wrist sore after a long period of use but this is to be expected for some
May not feel very sturdy to some. So, if exclusively expressing, this may not be the one for you
If you're looking for a simple, cheap and reliable pump. Look no further! Closer to Nature Manual Pump.
Some of the largest worldwide companies manufacture breast pumps amongst other baby and mother products.
Medela Harmony Manual Breast Pump Review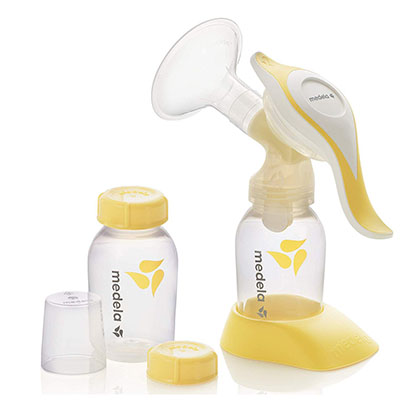 Medela products have been the first choice for moms particularly because of the range of options and the quality they deliver to the customers.
This breast pump by Medela provides for two phase expression and simulation technology, which means you can pump larger amounts of milk in less time. The various manual setting options give you the choice of pumping that is most convenient for you.
The product is elegant to look and its lightweight and discreet design makes it easy to carry in your purse or a small tote bag. The pump comes with a 24mm breast-shield.
The material of the milk bottle is made of BPA free plastic and can carry up to 150 ml of milk in full capacity.
Pros:
Small and convenient, fits in almost any purse
Can be used with one hand, freeing the other
BPA Free
Cons:
Gets hard on the hand after a while, but that's expected.
5 Things You Should Consider Before Buying a Manual Breast Pump
The manual breast pumps have been around for ages and are one of the most important equipment for a lactating mother. Breast pumps are a godsend for the working mothers who need to constantly feed their babies. The manual breast pumps are operated by hand and there is no external force used. Many new types of breast pumps have been invented but most women prefer manual breast pumps for its ease of handling and simplicity.
If you are thinking of buying a manual breast pump, here are a few things you need to consider:
The frequency of use: If you are a working mother and have to stay away from your child for longer hours, you might need a lot of milk to keep the baby well fed throughout the day. In such a case manual breast pumps can be a little slow. However, these are very comfortable and easy to use. To solve this problem, buy the breast pumps that come with bigger attachments or bottles that can directly store the milk and will save you the time of transferring the milk from one container to another.
Comfort: To make your experience more comfortable, there are many breast pumps that come with cushions or breast shields. For the women with sensitive breasts, nipple shields can be very useful. They prevent the mouth of the breast pump from tugging on the nipples too hard. For the others who need to use manual breast pumps regularly, this is very important. Some women have very sensitive breasts and the material used in the pump might irritate the breast. So, before buying a pump noting all the constituents that have been used in making it are very important.
Stand: Some manual breast pumps come with a stand. For the women who express a lot and do not want to keep unpacking and packing the pump every time. These stands can be useful. You can just wash the pump and keep them on the stand until the next use.
Cost: The breast pumps are usually pocket-friendly but there are some brands that sell the regular manual breast pumps at a higher than required price. So, before you buy a breast pump it is very important to compare it with the others present in the market. Also, you need to see what features are suitable for your comfort. Buying a pump with unnecessary features only increases its cost.
Validity: Another important thing to consider before buying the best breast pump for yourself is checking its validity. The manual breast pumps are mostly made of plastic and if the material expires, the chemicals in it might be very harmful to the child. Hence, it is very important to check the validity of the breast pump before buying it.
Last Updated: 12th Dec, 2020