Philips Pasta Maker Review: A Pasta Maker that has an Award Winning Design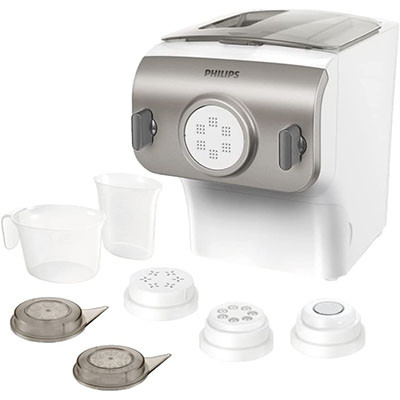 Philips Pasta Maker won the 2016 iF Design Award for its sleek modern look. Philips created a sleek award winning design that not only looks beautiful in any kitchen, but is practical and easy to use. It comes with a free recipe book.
Are you looking for the ultimate pasta maker that is Award winner , easy to use and maintain, also fast and consistent, to fit your busy lifestyle?  Then the Philips Pasta Maker for you.
It comes with everything you need fresh home-made pasta in just 15 minutes. You just add the ingredients of your choice (feel free to experiment), press a button and 15 minutes later you have fresh delicious pasta, ready to be cooked and enjoyed with your family and friends.
Philips created a sleek award winning design that not only looks beautiful in any kitchen, but is practical and easy to use. It comes with a free recipe book that contains over 20 different delicious pasta dishes that taste so fresh and authentic, it will have feeling like an Italian chef in no time.
You can also experiment with different flours and try different ingredients to make excite your taste buds with a variety of different flavors of pasta.
Design Of Philips Pasta Maker
Philips Pasta Maker won the 2016 iF Design Award for its sleek modern look, that incorporates new technology and kitchen practicality.  It comes in a beautiful champagne color that blends wonderfully in any kitchen.
The machine measures at 13 ½" wide * 8 ½" deep * 11 ¾" high, with a 200 watt motor to handle bigger job.  The pasta maker is designed with the user in mind, so simple to use, that even new cooks can easily fresh home-made pasta within minutes.
The machine does all the work, you just simply add the desired ingredients.
Features
The Philips pasta maker has completely automatic operation, which does everything. You simply add the flour and liquids, and the machine will mix and knead the dough, then automatically push out the pasta noodles when the dough is ready.
There are four shaping discs that come with the pasta maker that enable the user to make spaghetti, fettuccine, lasagna and penne noodles. The lasagna shaping disc can also be used to make dumplings and any type of ravioli you choose.
It has a built-in storage drawer to store all the shaping discs and any other accessories you get for your pasta maker.
Non-slip feet keeps your machine stable so the pasta comes out even.
It comes with a specially designed cleaning tool that is made to fit the shaping discs, making cleaning an easy on step job.
With a 200 watt motor, advanced design and durable build, the pasta maker has the power to exert 1600 lb. force on the pasta dough while extruding the noodles.
This allows the pasta maker to work fast and make up to half pound of pasta in just ten minutes, while guarantying consistent and quality pasta.
Easy-to-read LED control panel display with preset cooking function that makes making fresh pasta as easy as pushing a button.
It comes with automatic safety shut off to prevent the machine from overheating.
You also receive a colorful recipe book as a gift, which contains an ingredient list for 24 different types and flavors of pasta and recipes for over 20 healthy pasta dinners.
Accessories
The pasta maker includes four extruding discs that makes different sizes of pasta.
Two measuring cups, one four flour and the other for liquids.
A flat scraping tool to clean the dough off of the machine.
Cleaning tool specially made for the spaghetti and fettuccini disc
Cleaning
The main unit is easily cleaned and maintained by wiping with a clean dry cloth. Do not use water to clean the main unit. The detachable parts can be cleaned with warm soapy water and is also dishwasher safe.
Remember to store your accessories in the smart drawer so nothing gets lost.
How To Use Philips Pasta Maker
Making past has never been easier. Before you start, make sure your pasta maker is completely assembled before plugging in. Philips Pasta Maker comes with a great recipe book to guide you on culinary journey.
Make sure you follow the instructions carefully, is important that you get the right flour to liquid ratio. You don't want to overfill the mixing container, it can damage the machine.
First you choose what type of flour you want to use. You have the option to use the traditional white flour or go with whole wheat or gluten-free for healthier noodles. Make sure you are precise when measuring the flour and scrape off any excess.
Make sure you don't shake or tap the measuring cup, it can make the flour too dense. Pour the measured flour into the opening on the top of the pasta maker.
Using the supplied cup, measure out your liquid. You can personalize the flavor and experiment with different ingredients, such as eggs, spinach and carrot juice. Set your pasta maker to the desired amount of pasta by using the easy to read preset buttons on the LED display.
When the machine starts and begins to knead the flour, slowly pour in the liquid and the machine will do all the work. You wait for the pasta to come out and cut the noodles at the desired size.
You don't want to operate the machine for longer than fifteen minutes at a time. After running your pasta machine for fifteen minutes, you want to turn it off for a few minutes so the motor can cool down.
If the dough gets stuck during the kneading process, unplug the machine before trying to clear the mixing container.
Pros
The Philips Pasta Maker is very simple to use and comes with a recipe book with over 20 pasta recipes to get you started.
The machine is fully automatic and does all the mixing and kneading of the dough and different ingredients that you put in, senses when it's ready, and automatically extrudes ready to cook pasta noodles.
The smart drawer is also a great way to store the extrusion discs and cleaning accessories.
Cons
You need to make sure you follow the recipes just right or the pasta noodles won't come out right. The clean-up is also time consuming, and can sometimes take longer to clean than to make the pasta.
Final Verdict
This is a great product to go for. Philips is a trusted brand and there is every reason for you to go for it. Though the price is a bit on the higher end but the features are worth it. We definitely think this is one of the finest pasta makers in current market.
Last Updated: 17th Apr, 2020