Gourmia GPM500 Pasta Maker Review: Both Versatile and Beautiful Pasta Maker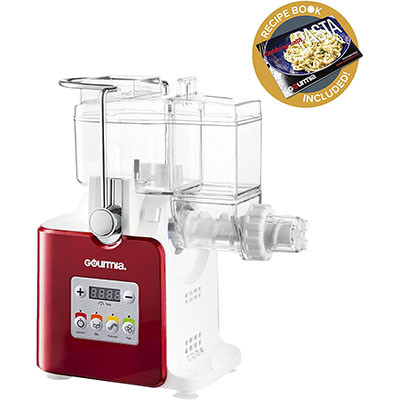 For pasta lovers who want to eat healthier or just make their own home-made pasta, Gourmia Pasta Maker is the ultimate all-in-one pasta making machine. It's not only easy to use, it also does all the work for you.
Nothing taste better than fresh pasta, but going the old fashion route and making it by hand is not time consuming, but also a strain on the hands.
Gourmia Pasta Maker Review
The Gourmia Pasta Maker GPM500 is an all-in-one pasta making that not only kneads and forms, but it also dries the pasta, leaving you nothing to do but simply cook and enjoy your freshly made pasta.
The Design
A beautiful, professional design makes it an aesthetic piece that would look great in any kitchen. The display functions are easy to read and follow, with a smart design that allows the pasta to come out pointing down, that helps avoid bending and breaking.
It also comes with all the accessories needed to make 8 different types of your own home-made pasta. It is easy use, all you have to do is add any type of flour you want to use – whether it be gluten free, whole wheat or regular – and then simply press the buttons and wait for your finished pasta to come out.
Features
The pasta machine is easily programmable and gives you the option to customize the settings by selecting from three different modes, kneading, extruding and drying.
You have the option of using all three modes, or you can choose to use just one or any combination of these modes, giving you the ultimate pasta experience.
The instinctive design and capability to customize the settings also allows you to make dough for pizza, bread and even cake batter.
The pasta maker uses micro technology features that produces fast pasta with minimal flour residue.
It includes a safety bracket that holds the machine together to prevent accidents and damage to the device while running.
The Gourmia Pasta Maker comes with a complete kit that enables you to make a variety of noodles and maintain the machine.
The control panel is simple to read and includes a timer control display that allows you to set the time according to your recipe. Below the timer is four buttons, on/off button, one for kneading the dough, one for extrusion of the pasta, and one for the fan to dry the pasta as it comes out.
Accessories
Six types of noodle molds that will enable you to make different types of pasta noodles, including lasagna, spaghetti and fettuccine.
A flour measuring cup and a water measuring cup that will help you measure the ingredients needed to for your recipes.
A kneading blade that kneads the flour into pasta or dough.
A spanner to help assemble and disassemble the pasta maker.
A brush that will help clean and maintain the pasta maker.
A cutter that enables you to make clean cuts to your pasta.
How to Use
If you are the type of helpless cook that can't make toast without burning it, then the Gourmia GPM500 complete craft electric pasta maker is for you. It is very easy to use, and will provide fresh home-made pasta in just a matter of minutes.
Using the provided measuring cup, pour your choice of flour, whether it is regular, whole wheat or gluten-free, into kneading chamber, turn on and choose your settings.
When the kneading blade begins, you add the needed liquids required by your recipe and allow the pasta maker to do its job. The timer will make sure that the dough is kneaded correctly.
When he kneading is done, simply push the extruding button to from the pasta, which is then pushed out downward in the shape of the pasta mold that you are using. If you push the fan button, a fan will blow-dry your pasta as it comes out.
Using the provided cutter, make cuts according to how long you want your noodle. They come out fresh and ready to cook. It is that easy.
Care and Maintenance
The pasta maker is easy to clean and maintain. Prior to disassembly and cleaning, you need to make sure that it is disconnected from its power source. The main part can be cleaned with a damp cloth and must be kept dry and stored in a well ventilated area.
All the other parts can be washed in water. It is suggested to clean after each use for hygienic reasons and to prolong the devices self-life.
Pros
The Gourmia Pasta Maker is easy to use with simple instructions and an easy to read display board.
The timer ensures that the recipe is followed to spec and allows you to multi task without the worry of your pasta not coming out right.
The aesthetic design makes it pleasing to the eye and brightens up any kitchen.
The ability to customize the settings allows you to make more than just pasta, allowing you to make dough for a variety of uses.
Cons
The Gourami Pasta Maker is designed to make smaller portions (1-2 people) at a time. So if you have a big family and want to make larger portions, you need to run the machine several times.
The motor is small and heats up after about 20 minutes of use. You have to let the device sit for at least 20 minutes whenever it heats up, so making larger portions of pasta may take more time.
It doesn't come with any recipes.
It doesn't have a storage space for the accessories that comes with it.
Final Verdict
If you are single or a couple looking for a pasta maker that is both versatile and beautiful, this is the Gourami Pasta Maker for you.
It is very easy to use and maintain, giving anybody the ability to make fresh pasta at home whenever you want.
However, if you are planning on making pasta for larger groups or for storage, you may want to think about getting a pasta maker with a larger motor that can handle work.
Last Updated: 17th Apr, 2020