Best Flybar Pogo Sticks for Kids and Adults: Super Pogo 2 vs. Foam Master vs. Foam Maverick
Best for Adults
Flybar Super Pogo 2
Best for Teens
Flybar Foam Master
Best for Kids
Flybar Foam Maverick
Introduction
There are a couple of key things to look for when purchasing a pogo stick, whether it's your first or your last. For instance, weight and size are always factors. A decent pogo stick should be light enough to be easily carried, and shouldn't be larger than the user. This is especially vital when purchasing pogo sticks for smaller children.

The age and experience of the user is perhaps the most important factor when choosing a pogos stick. Younger kids should not be using pogo sticks that are meant for adults. Most likely, they would want a stick similar to the Foam Master, to learn correct balance on. Conversely, an experienced pogoist would much rather have a pogo stick that can get them decent air. The Super Pogo 2 is great for these more experienced users, who would like a good pogo stick without sacrificing size, a problem with the larger sticks.
Also when looking for pogo sticks, the type and power of the spring should be a large influence on your decision. Some pogo sticks have a stronger spring, and can achieve a much higher height. However, especially for children, this isn't always a good thing. There are several different types of springs used in pogo sticks. Some have a classic spring, such as the Foam Master, while others have rubber-band springs.
The last two important aspects of pogo sticks, durability and price, should always be considered when choosing a stick. These two go together. While durability is always a plus, sometimes you needs to pay more money to find good durability. It is important to find the balance between durability and price. This is where pogo sticks such as the Super Pogo 2 shine.
The World of Pogo Sticks
Pogo sticks are great fun for anyone of any age. If this is your first pogo stick, get ready to take a step into a whole new world.
The feeling of bouncing on a pogo stick is a wonderful thing. Whether it's something you had to work hard to obtain, or a skill that came naturally, everyone loves pogo sticks. I remember when I was young, my brother and I used to count each other's bounces in a row. Pogo-sticking is an excellent source of exercise that is fun for the user. Once obtaining the balance, multiple possibilities await.
Why do you want to buy a pogo stick? Do you just want a great source of exercise that is also loads of fun? Or, did you want to learn some new, cool tricks? Whatever your reasons, pogo-sticking is the perfect solution for you. With new technologies and new versions of pogo sticks being produced every year, now is one of the best times to buy a stick. Some of the modern pogo sticks can get air height of up to 7 feet! However, sticks such as the Foam Master still offer the classic pogo-stick that everyone loves.
One of the biggest problems I have run into while researching various pogo sticks was finding solid reviews. Little information seems to be out there about pogo sticks, yet many people would love to have first-hand reviews regarding the stick they are looking to buy. That is why I have compiled an extensive list of many popular pogo sticks along with my personal reviews. Enjoy!
Best Flybar Pogo Stick Reviews
Flybar Super Pogo 2 - Pogo Stick For Kids and Adults 14 & Up Heavy Duty For Weights 90-200 Lbs Review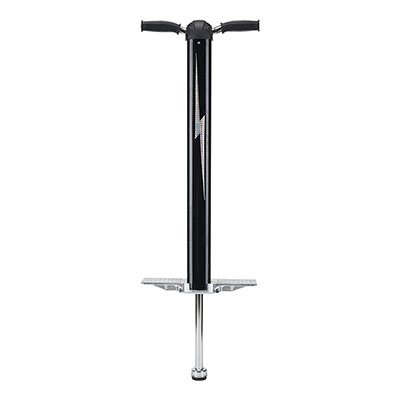 The Flybar Super Pogo 2 pogo stick is a great transition stick from beginner pogo sticks to big air pogo sticks. The Super Pogo 2 has a classic steel spring, which can make it more reliable and less likely to break. Durability is also one of the Super Pogo 2's stronger points, and the Pogo 2 can last for many years. I have rarely ever heard of the Super Pogo 2 breaking or falling apart in any way. The price of the Super Pogo 2 pogo stick also makes it attractive, as it costs much less than some of the more advertised pogo sticks, such as the Flybar 1200.
The recommended weight class for the Super Pogo 2 is 100-200 pounds, yet this can be stretched a little as the Super Pogo 2 can definitely support people of a higher weight. When you first receive the Super Pogo 2, the spring will most likely be very stiff. However, this goes away in a few days as the pogo stick gets more use and as the spring loosens up. Surprisingly, the Super Pogo 2 also has the ability to achieve heights up to 4 feet high. Although this is not as high as some of the big air sticks, 4 feet is still a lot of height and is sufficient for most people. The Super Pogo 2 pogo stick is a wonderful choice for those users who are looking to move past the beginner pogo sticks, yet do not want to try the most advanced pogo sticks.
Final Thoughts: In all honesty, the Super Pogo 2 is probably my favorite stick out there. The Super Pogo's durability is incredible, it achieves pretty awesome height, and is the perfect weight. Unless you are a beginner, I would strongly suggest the Super Pogo 2 as a valuable choice for any user.
Flybar Foam Master Pogo Stick For Kids Boys & Girls Ages 9 & Up, 80 to 160 Lbs Review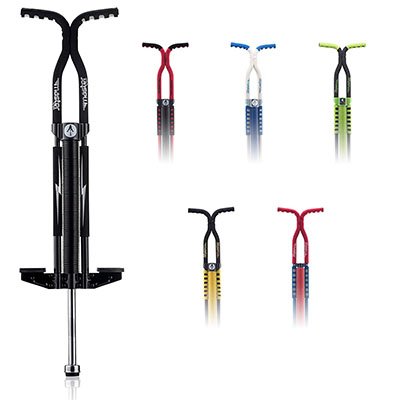 The Flybar Foam Master is perhaps one of the best, most balanced pogo sticks out there. It performs well in almost every category. The Foam Master is definitely one of the lighter pogo sticks, and bouncing on the stick is very easy. It is also designed for easy balance, as most users of the Foam Master are beginner or intermediate pogo stick users. Its durability is amazing too, and can last you many years. I once had a Foam Master pogo stick for over three years, and it still hopped along fine. The only large concern I have seen with the Foam Master is the wearing down of the rubber tips. Luckily, these tips can be easily replaced, and many models come with extra tips.
I have had the Foam Master for a long time, and it is my favorite pogo stick. It bounces high enough so that tricks can be performed on it if needed, but not so that the pogo stick is unsafe to use for smaller children. Perhaps my favorite part of the Foam Master is its foam covering. This gets rid of the pain that you get on the inside on your legs when using other pogo sticks without a foam covering.
This pogo stick is more suited for children and teens as it does not allow for adjustability with the weight of the user. However, I have known many adults who have used the Foam Master pogo stick with ease. Overall, I would recommend this pogo stick to anyone, both the experienced and inexperienced.
Flybar Super Pogo Pogo Stick for Kids and Adults 14 & Up Heavy Duty for Weights 120-210 Lbs Review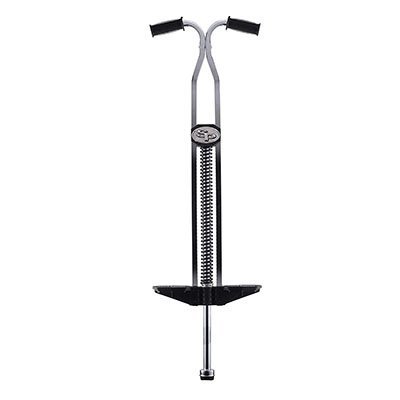 One of the best pogo sticks out there, the Super Pogo 1505 performs well in all categories. It has great durability, and can last many years for the average user. Rarely do you hear of this pogo stick suffering any problems or defects, and the Super Pogo is extremely well-built. That being said, it's good to note that the Super Pogo is not built for the small. The minimum weight requirement is 120 pounds, and that is pushing it. The spring system is a classic one, and the Super Pogo's spring is a tad stiff, especially when you first start using it. However, this allows for the massive air that this pogo stick can obtain.
The Super Pogo 1505 pogo stick is not built for children, or lighter people. It can support almost all adults and teens, and is a great pogo stick for those older pogo-stickers who are unable to use the smaller, children-oriented pogo sticks. The Super Pogo is also one of the best pogo sticks for providing a workout, and will have you in shape in no time. Its considerable air time will allow you to perform all the tricks you want, for those more serious users.
Keep in mind that the metal sides of this pogo stick will bruise up your legs, unless you purchase some type of extra padding. Luckily, this will go away during the first few weeks of use, as your legs adjust to it. Other than that, the Super Pogo 1505 pogo stick doesn't have any big drawbacks. Being produced by Flybar, you can be assured that it is of the best quality. It is important to remember that this pogo stick shouldn't be purchased for children or lighter teens and adults. If you are looking for a serious, enjoyable pogo stick that will last you for a very long time, the Super Pogo 1505 pogo stick is your best bet.
Flybar Foam Maverick Pogo Stick for Kids Ages 5+, Weights 40 to 80 Pounds Review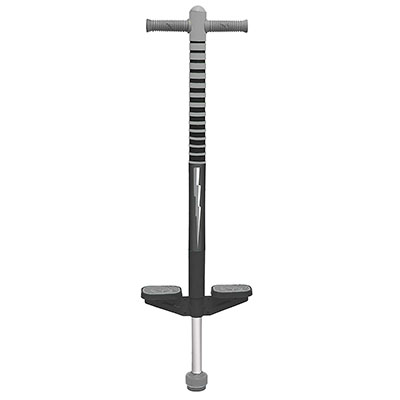 The Foam Maverick is similar to the Foam Master, except it is suited for younger children typically under the age of nine. Once again, as seen in the Foam Master, it has a covering of foam surrounding a metal frame to protect the user from the bruises and sores associated with a metal pogo stick. The Foam Maverick also has amazing durability, as seen in many of Flybar's models. It can last for two to three years easily, before the spring wears down. Also, the rubber tip problem found in the Foam Master is much less prominent, although there have been some cases of the rubber tip coming off.
Everything found in the Foam Maverick is designed for smaller and younger children. If you are over ten years old, and if you weigh over 100 pounds, this stick is not for you. Consider purchasing the Foam Master. However, if you meet these criteria, the Foam Maverick is perfect for you. Its light weight makes it easy for children to handle, and the wide rubber base assures that slipping is nearly impossible (remember, the tip could fall off, so be sure to check every once in a while). The Foam Maverick also has wide footpads and extra-grip handles, to decrease the chances of a crash for first-time users.
Keep in mind that the Foam Maverick is basically a Foam Master pogo stick designed for smaller children. It is great for children just beginning or with little experience. If you feel that your child might be too big for the Foam Maverick, check out the Foam Master. Both these sticks are durable, yet your children may grow out of the Foam Maverick fairly quickly. The Foam Maverick is definitely best-purchased for children beginning their pogo-stick journey.