Fragrance 101: Best Perfume for Men and Women Buying Guide
Best for Businessmen
Armani Acqua Di Gio
Best for Women
Coco Mademoiselle
Best for Young Guys
Davidoff Cool Water
How do we test perfumes?
We never test perfumes in a shallow way. We critique its box set, to make sure its attractive, as this is a vital part of fashion. We move on to first impression, the very first spray and what type of impressions it leaves. Then, we move on to the scent after it matures a bit, and test the perfume's longevity. We try to include remarks about pricing, as for many our readers this is a crucial factor when choosing a perfume.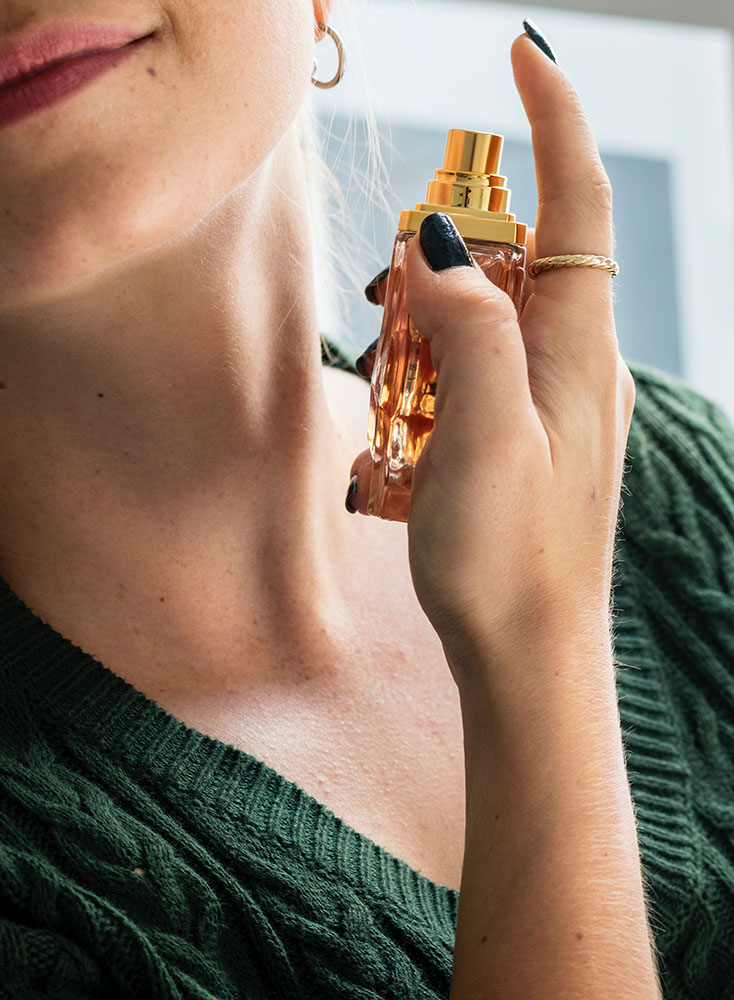 These are the most updated lists we currently have. Please use them or find perfumes of your choice using the left-hand navigation.
Stage 1: Terms to Start With
Is this your first time to buy a perfume for yourself or your loved ones? If the answer is yes, you need to read this fragrance guide for beginners to be familiar with the basic terms used by the perfume experts and enthusiasts.
The fragrance of a perfume comes from its essential oils that are extracted from real plants, flowers, food, or synthetic oils that are formulated in the laboratory using chemicals and some natural resources. A perfume can be made of 100% essential or synthetic oils, or a combination of the two at a certain percentage.
The addition of alcohol and water to the mix is important to tame the oil's strong scent, distribute the scent evenly to parts of the body and release the scent. Without alcohol, it is only you who knows that you are wearing perfume.
People usually refer those fragrant bottles as perfume. Fact is, fragrance has five categories according to the concentration of fragrance oil in the mix.
Perfume or parfum – has the most concentration of fragrance oil in the group. It has 15% to 40% fragrance oil. It lasts the longest, staying for 6 to 8 hours and is the most expensive. It is usually packaged in smaller bottles to avoid users from putting too much because a little goes a long way. It is advisable to apply it only on your pulse points.
Eau de parfum – sits next to perfume. It has 15% to 20% fragrance oil. It also lasts, with a staying power of 4 to 5 hours. It is good for everyday use and usually packaged in spray bottles.
Eau de toilette – sits next to eau de parfum. It has 8 % to 15% fragrance oil. It lasts for at least 2 to 3 hours. It is also good for everyday use. It is weaker but cheaper than eau de parfum. Rumor has it, that manufacturers stopped producing eau de toilette because of the growing demand for eau de parfum.
Eau de cologne or cologne –  sits next to eau de toilette, containing 4% fragrance oil. It is the cheapest but also the weakest among the four. It last for at least 1 to 2 hours. It is favored mostly by teenagers and adults who prefer lighter fragrances.
Aftershave and Body mist – have 1% to 3% fragrance oil. It is the lightest among the group and used for a hint of scent.
Fragrance has four main families. It can be used alone or combined with others. This fragrance guide for beginners will present you the details about the four families.
Citrus – is derived from citrus fruits such as lemons, oranges and bergamots. It exudes a light and fresh scent that is energizing and refreshing.
Floral – is derived from a single flower such as jasmine, rose, iris and gardenia or a combination of two or more at certain doses. It exudes a sweet and flowery scent.
Earth – is derived from plants or minerals aside from flowers. Examples are honey, sandalwood, vanilla and cinnamon.
Musk – is derived from Asian musk deer and civet; however the scents are now chemically produced due to ethical animal issues.
Also, fragrance has three notes to keep it from being one dimensional. The notes are the impressions left to the users upon applying the fragrance.
Top note – is the scent that you will smell right after you applied the fragrance. It is the fragrance's first impression and designed to attract customers. It does not last long as it is the first to evaporate from skin upon application. Citrus scents are usually used as the top note.
Mid or heart note –  is the scent you will smell right after the top note evaporates. It is the fragrance's body. Floral scents are usually used as the mid note.
Base note – is the main and true scent of the perfume. You can smell it at least 30 minutes after application. It lasts the longest. That is why you have to be sure that you like a fragrance's base note before purchasing. Musky scents are usually used as the base note.
And there you have it. The fundamentals you need to know about fragrance presented by this fragrance guide for beginners.
Stage 2: Fragrance guide for intermediate users
Now that you know the differences between perfume and eau de cologne, and which one is the strongest and long lasting, you may now check the fragrance guide for intermediate users to have a successful fragrance shopping.
Now that you are already familiar with the fragrance's different concentration levels and different fragrance families, it is now time to look into the details of each fragrance families, its subordinates and the new families that emerged just recently.
As mentioned, fragrance is differentiated according to families that emit various scents. Floral, Citrus, Oriental and Musk  are the most popular and commonly used but there are other families as well that exude a unique scent alone or combined with other families that will be discussed by this fragrance guide for intermediate users.
Chypre – or the French for "cypress" is named after the Mediterranean Island of Cypress which inspired Francois Coty's perfume of the same name. This family is comprised of lavender, patchouli, sage, resins and oak-moss. It is perfect for someone who loves outdoors as it emits a mossy and woodsy scent.
Famous fragrances of this type are Knowing by Estee Lauder, Moments by Priscilla Presley, Miss Dior by Christian Dior and Halston by Halston Fragrances for women, and DK Unleaded by Donna Karan for men.
Citrus – emits a light and tangy scent. It is refreshing and energizing perfect for sleepy heads. Grapefruit, lemon, lime, mandarin and bergamot comprise this family. It is perfect for someone who prefers a light and casual scent. It is also perfect for fun loving, energetic and playful personalities.
Famous fragrances of this type are Gieffefe by Gianfranco Ferre and Eau De Rochas by Rochas for women, and Blue Jeans by Gianni Versace, Tommy by Tommy Hilfiger, Armani by Giorgio Armani and Drakkar Noir by Guy Laroche for men.
Floral – includes carnation, gardenia, lily of the valley, narcissus, rose and tuberose. Floral perfumes are usually made of a combination of these floral extracts. It is perfect for someone who is sweet, girly, elegant and romantic. It also boosts brainpower that is perfect for someone taking an exam and having a job interview.
Famous fragrances of these type are Eternity by Calvin Klein, Chanel No5 by Chanel, Chloe by Karl Lagerfield, Joy by Jean Patou and Gucci Accenti by Gucci.
Floriental – is a combination of floral and oriental family. It includes gardenia, jasmine, freesia, tangerine, osmanthus, moon flower, orange flower, apricot, sandalwood, amber and musk. It is both appropriate for day and night because its combination of spices and exotic scents.
Famous fragrances of this type are Samsara by Guerlain, Joop! Femme by Joop!, Tresor by Lancome and Sun Moon Starts by Karl Lagerfield.
Fougere – or the French for fern, pronounced as "fooz-hare" includes oak moss, coumarin, lavender and geranium oil. Famous fragrances of this type are Cool Water by Davidoff, Safari by Ralph Lauren and Baryshnikov by Parlux Fragrances for women, and Paco Rabanne by Paco Rabanne and Boss No. 1 by Hugo Boss for men.
Fruity – is associated with soft peach-like warmth and clean citrus scent. It includes apricot, apple, bergamont, mandarin, neroli, passion fruit, papaya and pineapple. It is perfect for youthful, nature-loving and fruit-loving personalities.
Famous fragrances of this type are Liz Clairborne by Liz Clairborne, Lauren by Ralph Lauren and Jess by Jessica McClintock.
Green – replicates the scent of fresh cut grass and green leaves with autumn breezes. It includes hyacinth, galabanum, juniper, lavender, pine and rosemary. It suits nature-loving and outdoorsy personalities. Famous fragrances of this type are Gio by Giorgio Armani, Sung by Alfred Sung, and Chanel No. 19 by Chanel.
Gourmand – is perfect for food-lovers. It is made from almond, caramel, chocolate, coffee, cupcake, vanilla and whiskey extracts. It is either sweet or spicy. A famous fragrance of this type is Angel by Theirry Mugler.
Lavender – is a calming and relaxing scent that comes from lavandin oils and lavender plants in southern France, and Spain's spike lavender. Famous fragrances of this type are Lovely by Sarah Jessica Parker for women and Ungaro by Ungaro for men.
Modern – is made of aldehydes, a scent made of 100% chemicals. It grows stronger when warmed by skin and intensify the other scents of a perfume. Famous fragrances of this type are Chanel No. 5 by Chanel, White Linen by Estee Lauder and Red by Giorgio Beverly Hills.
Oceanic – is also made of 100% chemicals to replicate the scents of ocean, ocean breeze, mountain breeze or sun dried linen. It goes well with someone who loves the beach. Famous fragrances of this type are Dune by Christian Dior, Acqua Di Gio by Giorgio Armani, Sunflowers by Elizabeth Arden and Ocean Dream by Giorgio Beverly Hills.
Oriental – is heavy that it is appropriate for evening wear. It includes amber, woods, resins and vanilla. It is perfect for confident, passionate and sophisticated people. It also increases one's sex appeal. Famous fragrances of this type are Casmir by Chopard, Black Pearls by Elizabeth Taylor, Shalimar by Guerlain and Opium by Yves Saint Laurent.
Spicy – includes bay oil, basil, cardamon, cinnamon, cloves, ginger, lavender, pepper, olibanum and carnation. Famous fragrances of this type are Poison by Christian Dior, KL (Lagerfield) by Karl Lagerfield and Coco by Chanel for women, and Joop! Homme by Joop! and Bijan by Bijan Fragrances for men.
Woody – includes cedar, rosewood, sandalwood, vetiver, blue iris, myrtle and musk. It tends to side more on unisex or masculine scents. It suits the nurturing, free-spirited and sensual personalities. Famous fragrances of this type are Cool Water by Davidoff, Safari by Ralph Lauren and Aramis by Estee Lauder for men.
There you have it. The fragrance guide for intermediate users that details each fragrance family type and which personality suits which.
Stage 3: Perfume Houses and Trends
Now that you know fragrances' different concentrations and family scent, it is time to know a few establishments who bring fragrances in the market in the fragrance guide for experts.
House of Creed – was founded by perfumer and English tailor James Henry Creed in 1760 in London. It is a family business passed from generation to generation. However, it only became popular when it moved to France in 1854. It stood out among the vast number of perfume houses in the world when it established a private collection exclusive for the silver screen stars and royalty in 1920. Its famous fragrances are Angelique Encens for Marlene Dietrich, Spring Flower for Audrey Hepburn and Fleurissimo for Princess Grace (Grace Kelly). It also madefragrances for Queen Victoria, Madonna, Naomi Campbell and Jacqueline Onassis.
House of Guerlain – was founded in 1828 but first known in1853 through the public launch of its Eau de Cologne Imperiale'. It is dedicated for France's Empress Eugenie, the spouse of Napoleon III.  It became famous in 1900's when it was spearheaded by Jacques Geurlain, the first perfumer to include synthetic vanilla in the perfume-making process. Among its famous fragrances are Mitsouko (1919) favored by Jean Harlow and Charlie Chaplin, Shalimar (1925) worn by Rita Hayworth and Marlene Dietrich, Jicky (1869), L'Heure Bleue (1912), Shalimar (1925), Champs-Elysees (post 1990) and Insolence (post 1990). It also concoted fragrances for other royalties including Princess Metternich, Bulgaria's Tsar Ferdinand and the Prince of Wales.
Chanel – was founded by one of the most popular fashion designer in history, Gabrielle "Coco" Chanel. She extended her line by launching the Chanel No. 5 perfume in 1921 that became the most famous perfume of the year. It continues to be the best seller in the present as a bottle is sold every 30 seconds in the world. Chanel is known to use aldehydes, a synthetic fragrance that imitates hard to find or extract fragrances such as gardenia and jasmine. Other Chanel's famous fragrances are Allure, Chance and Coco.
Parfums Caron – was founded by Ernest Daltroff, a French perfumer, in 1904. It is the one that produced Bellodgia in 1927, Narcisse Noir in 1911 and Pour Un Homme in 1934, all still produced and available in the market until now. It stood out as one of the Paris' remainning enterprises devoted to making only perfume. Its contemporary fragrances are Parfum Sacre, Aimez Moi and Nocturnes de Caron.
Hermes International – is first known only for its sturdy leather goods and accessories until the second half of 21st century. In 1946, it launched its first fragrance, Eau d'Hermes. It established its reputation in the perfume world by collaborating with independent perfumers like Jean-Claude Ellena and Maurice Roucel to concoct its fragrances. Its other famous fragrances are Eau dea Merveilles, Faubourg and 24.
Annick Goutal – is one of the independent contemporary perfumers who established its reputation through its classic fragrances. Its first fragrance, Eau d'Hadrien (1981) are Madonna's and Nicole Kidman's favorite. Its creations are also known for its well-crafted and unique bottles. Its famous fragrances are Gardenia Passion, Petite Cherie and Ce Soir Ou Jamais.
There are also the designer perfumes such as Ralph Lauren, Tommy Hilfiger, Giorgio Armani, Calvin Klein and Yves Saint Laurent among others, and celebrity collaborations such as Jassica Simpson, Sarah Jessica Parker and Jennifer Lopez among the few.
After knowing the famous perfumers in the world, it is now time to take a look at the present and future trends of the fragrance industry with the fragrance guide for the experts.
Best Parfumes for Men
We have tried to gather a list of top-selling perfumes along with perfumes that are less well-known like boutique perfumes from different parts of the USA. We did try to make everything available for purchase online. Also, we mention our choice of provider and the coupon codes that make prices cheap and viable.
Please be sure to read many of the reviews – not every perfume fits the same type of men. We tried to make the reviews so that they would be matched on characteristics of the person who should wear it.
Armani Acqua Di Gio Review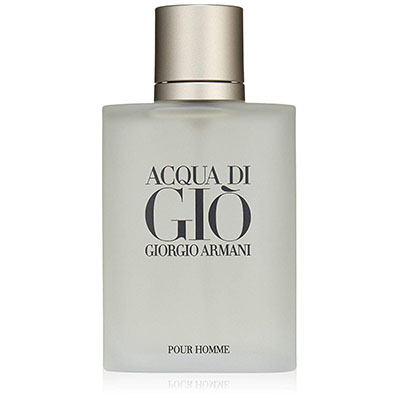 Most Noticeable Notes – Mandarin Bergamot, Neroli Persimmon, Rosemary, Jasmine, Amber, Patchouli Citrus.
Target Audience – Young Males for business and party.
Introduction
Armani is one of the most reputed names in the world of fashion for males and therefore they always come up with something unique and better that would appeal to all males. Armani Acqua di Gio is certainly one of the best perfumes under Armani brand because it has a very appealing scent that makes you feel fresh and lively and makes you feel closer to nature. The natural scent of this perfume is the highlight of it and attracts men and women towards it.
The review
When you take a quick look at the bottle of this perfume you will find that Armani has tried not to make their brand sound too pompous and that is why they have kept the design of the bottle as simple as possible. The metallic matte finish on the bottle makes the bottle look simple and beautiful but apart from that the bottle has no unique fancy shapes. However, the scent of this perfume can really make you feel better in an instant because it has very natural scents that will take you closer to the oceans and the misty marine freshness.
The fragrance has been in the market for really long time now and the reason behind it is that it provides good masculine scent when you apply it on yourself. It really makes you feel unique and fresh and makes you feel like you are a part of this natural world. The scent is not too powerful, but it still has that lingering fragrance that stays on you for long hours.
Armani Acqua di Gio can stay on you for long hours so if you are using it for your office use you will feel the freshness even when you return home. You can even use this scent when you are attending some evening party of event. The citrus, jasmine and ocean freshness that is blended in this scent will soon make you the center of attraction at the party because it is very mass appealing.
Bottom line
This perfume has received a lot of appreciation and five star ratings from reviewers for the kind of natural scent that it produces. The price factor is also a plus point here because Armani has kept the price really affordable for people to buy it.
Givenchy Play Intense Review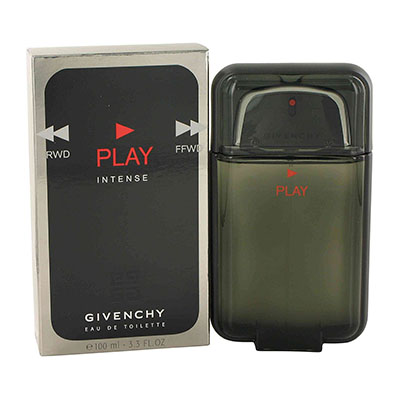 Notes: Sporty, bergamot, mandarin, sweet, citrusy, pepper, tonka, masculine aquatic.
Most suitable for: Athletic Men.
Introduction
The Givenchy Play Intense cologne is an iconic scent by Justin Timberlake. This is perfect for the athletic guy who isn't afraid to get intense on the court or field. Ever had that adrenalin rush that really gets the game going and allows you to score the last point making you the winning team? That adrenalin rush is the meaning of this fragrance. If you are dating the sporty type, or you are the jock athlete then look no further for your signature cologne. This was created especially for you!
The review
This is a very refreshing scent which includes bergamot and mandarin freshly squeezed. It is quite "citrusy" and sweet, which causes it to be a unique scent; definitely, set apart from the rest. This is a sweet and citrus smell that is a bit oriental and has a darkish color with hints of pepper, vetiver and Tonka ingredients. This is an "extreme" scent, and although it is masculine it is also very prominent. It's an enthusiastic smell which is very genuine with definite male traits that are intoxicating towards women.
It isn't a traditional male scent because it has a certain darkness to it which is perfect for the dedicated athlete. This cologne receives 5 out of 5 stars due to how different it is, yet evasive in smell. This also contains an intelligent packing which is aquatic and with masculine accents. Are you energetic and do you escape through being active?  This is the perfect cologne for you. This is youthful, hip and light without being too humid during athletic events. You can actually get this cologne at a discount. It encapsulates everything that an American man should be.
Bottom line
We all want to be challenged in one way or another, and physical endurance is one of the greatest challenges. It causes you to use your brain and your skill as well while you are straining your body. All you athletes, Givenchy Play Intense is for you. For the most convenient way of getting your hands-on this product you should search online for the best deals. This is most often available within any local fragrance store. Compare prices depending on the size of the bottle that you want and find the best price for you… you're going to want more after the first bottle!
Davidoff Cool Water Review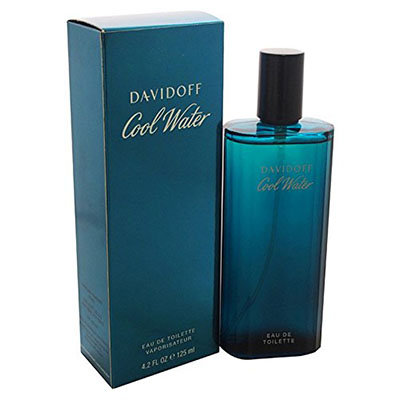 Most Noticeable Notes – Lavender, Menthe, Iris and Musk.
Target Audience – Young Males for Casual and Party Event.
Introduction
If you are a person who do not like to compromise anything for money then you should definitely look out for the best perfume brands that are available in the market. Davidoff Cool Water is one of the most popular perfumes that you can buy for yourself if you are looking for casual perfumes that you can wear to your office and also use it for your personal private events. It has a lot of popularity in the market and therefore you will need to make sure that you don't buy fake ones that are available for cheaper rates.
The review
When you checkout the perfume the first thing that makes an impression is the packaging and the bottle. The deep ocean blue color bottle reminds you of the cool ocean water that has a lot of natural freshness in it. The shape of the bottle is simple and classy in its own style and therefore it is very eye appealing. This perfume has been created by various top perfumers like Beatrice Piquet, Pierre Wargnye, Alain Astori, and Francoise Caron. It is based on the same scent that made Davidoff popular when the first Cool Water fragrance was released in the market in the year 1988.
The great thing about this perfume is that it stays with you throughout the day and sometimes even longer. You can wear this perfume even when you are heading to office and you will find that you still feel fresh and confident when you return home because the smell is still there on your skin. The combination of different notes like jasmine, lavender, musk, oak-moss and sandalwood makes this fragrance very unique from different regular brands in the market.
It has a sharp and fancy smell along with it which makes you feel like a high status men. It will also appeal to many women because it has a good masculine fragrance to it which can attract women if they enjoy ocean fresh scent.
Bottom line
Davidoff Cool Water is highly rated and used by millions of people across the globe because it has some really great notes that make the consumer feel fresh and confident throughout the day. The masculine fragrance definitely makes the perfume more appealing and the affordable price is something that never let's this perfume get out of the competition.
Best Perfumes for Women
We have tried to gather a list of best-seller fragrances that also contains perfumes that are bit less known to the public including smaller brands, boutique perfumes and even Asian brands. We made sure that most perfumes can be found in some store online, so people who couldn't find the perfume near them, or want to buy it for a better price (online purchase saves, on average 40% of the price) can do so.
Go over as many reviews as you can, it can help you get to a more sensible decision. We have perfumes matching any type of personality, budget and occasion
Coco Mademoiselle by Chanel Review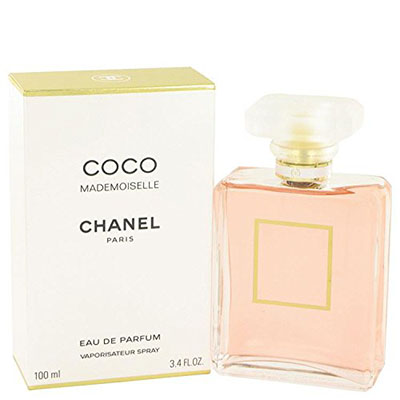 Notes: Patchouli, jasmine.
Most suitable for: Young women folk.
Introduction
The perfume created by the perfumer Jacques Polge is considered as the perfume having most original fragrance. Here, all the notes included result in a fantastic smell of the liquid. The fragrance is completely for women and is very satisfiable. It is extremely soothing and is specially made for the young women who like to have a smell of goddess.
The perfume released in 2001 is one of the very well known and acknowledged products in the sphere of perfumes. Women always like to have friendly things. And this perfume completely takes this factor in. All the work done for creating this ultimate product reflects the feminine characteristics of women. It is known for its perfectness in smell that is truly alluring.
This is a perfume that not only attracts the women folk but also the men folk who intensely desire women wearing this perfume.
The review
The perfume is worth appreciation from all the aspects. The smell, packaging, lasting are all very much liked in this supreme product. Here, the scented liquid is packed in a rectangular glass bottle that is transparent and reflects clearness of the perfume. The golden letters of the name of the perfume, written over the glass surface of the bottle adds to its beauty. It is designed in a way that reflects femininity from every corner in a distinct way.
The perfume has top notes of orange, mandarin, bergamot and Tunisian curacaos. The middle notes in the perfume include Italian jasmine, morning rose and mimosa. All the flowers and fruits included for creating the amazing fragrance of the perfume do complete justice to the product. The perfume includes base notes of vanilla, musk, Indonesian patchouli, opoponax, Haitian vetiver and Tonka bean as well. And ultimately, the blend of all these notes provides woody fragrance to the women wearing it.
The long lasting of the perfume is one of the major reasons for its acceptability. The perfume stays for long hours after being sprayed that keeps the young ladies relaxed.
Bottom line
Coco Mademoiselle can be bought for just over $100 by the ladies who desire to smell best. It can also be bought by the gentlemen who want their ladies to be great than usual. Lastly, the product has a rating of 4.76 of 5 by 49 reviewers due to all the factors included in it.
Britney Spears Midnight Fantasy Review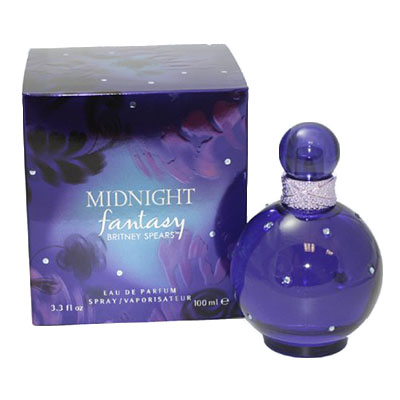 Notes: black cherries, plum.
Most suitable for: young crowd of sensuous ladies.
Introduction
Perfumes are always appealing and Britney Spears Midnight Fantasy is one of the perfumes that are filled with youthfulness. The perfume created by Caroline Sabas is one of the finest aromatic products made for the ladies. The magnetic smell of the perfume is just undeniable. This perfume is exclusively made for women who desire to wear a seductive fragrance. The scent of this perfume goes well in any occasion and adds a new flavour to the personality of a lady.
With several great things included in this perfume that makes it adorable, it is one of the best. The perfume does not have a very overpowering smell that makes it a splendid choice for the women folk. Anyone wearing this perfume is sure to be noticed that fulfills the intense desire of the young ladies who wish to seek attention. It helps the ladies to spread their magic in the ambiance. Men get easily attracted by the most attractive fragrance of the Britney Spears Midnight Fantasy.
The Review
The aromatic liquid packed in a blue bottle with crystals that looks like stars is the ultimate choice of the young ladies. With cherries and plum as the base notes there are many other notes as well that are included in the perfume. The middle notes of the perfume includes freesia and orchid that does a wonderful addition to the fragrance. Amber, vanilla and musk are the base notes of the perfume that helps in providing a great boost to the scented liquid in the spherical blue bottle.
The lasting of any fragrance is a very important thing that needs to be included in the traits of good perfume. So here, the scent of the perfume is long lasting as well that makes it perfect for ladies, to be included it in their cornucopia of apparels. Also, one does not need to spray a lot of these for getting long lasting results. Rather, ladies can witness the magical effect just with very less amount of perfume being used. So, it can be said that the perfume provides good results with a single spray.
Bottom Line
The perfume can be bought for $55. It has a rating of four stars that makes it the best option for the women who want to complete their personality.
Paris Hilton Heiress Perfume Review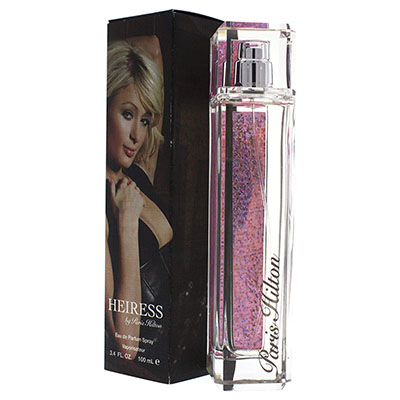 Notes: Youthful, Bliss, Floral, Fruity.
Most suitable for: Young Women.
Introduction
Paris Hilton Heiress is a perfume that contradicts everything that you would consider it to be (or Paris Hilton to be.) Paris stands for rich and sophisticated while her fragrance emits a sort of bliss and youthful ingredient. This is perfect for the youthful and vivacious spirit; great for the daytime  and preferable among many young women who want a scent that isn't provocative… but innocent in nature.
The review
The perfume is attractive as a fruity and a floral blend with various notes and layers of youthful ingredients. This has been aimed towards 20 year olds or those looking for that youthful appearance and scent. The ingredients consist of fruit ingredients such as orange and peach. The floral ingredients consist of mimosa, Jasmine, Tiare, Ylang Ylang and vanilla with a topped off musk. There are honeysuckle and violet, which are incorporated as well. The woodsy layers finish the fragrance off perfectly… these are truly the most fittings of blends while giving off a flirty yet subtle aura.
Concerning the perfume, the cost in this scent is quite affordable for all the quality ingredients that have been put into this fragrance. A 1.7 0z can be purchased for approximately $40. If there are any words to be used in reference to this fragrance it's powerful, daring, innocent, blissful, distinct and energetic. Kudos Paris for creating a perfume that is distinct and different from the others aimed towards a similar age group. Men find this scent attractive because it takes away the responsibilities and sophistication that tend to display itself as being too powerful in certain relationships. A child-like  mentality and a youthful spirit can loosen up tension between a man and a woman.
Bottom line
This is a must have fragrance that has been a favorite for many young women anywhere from their teens to their thirties. This can most often be found at any local fragrance store and online for a discount price. This perfume receives a 4 ½ out of 5 stars for diversity, youthfulness and quality. This is said to be a long-lasting  fragrance. It comes in a very feminine bottle, clear with tints of pink. The box is black with pink lettering. Vertically, it's quite slim and lengthy, perfect to carry around in a purse. This can be purchased as stores such as kohl's as well. This is a highly recommended scent that is perfect for the energetic and youthful woman.