What is the Best Long Range HDTV Antenna for Outdoor and Indoor?
For Outdoor
Channel Master CM-4228HD
For Indoor/Outdoor
HD Frequency Cable Cutter
Introduction
Are you tired of dishing out $1,500 or more annually for satellite/cable TV subscriptions?Maybe it's time to invest in a reliable long-range indoor/outdoor HDTV antenna. A HDTV antenna allows your television to pick free local/live network television channels for instance CBS, FOX, NBC, ABC and a host of others for a one-time pocket friendly price. This HDTV antenna review will introduce you to 7 most popular long-range HDTV antennas in 2019.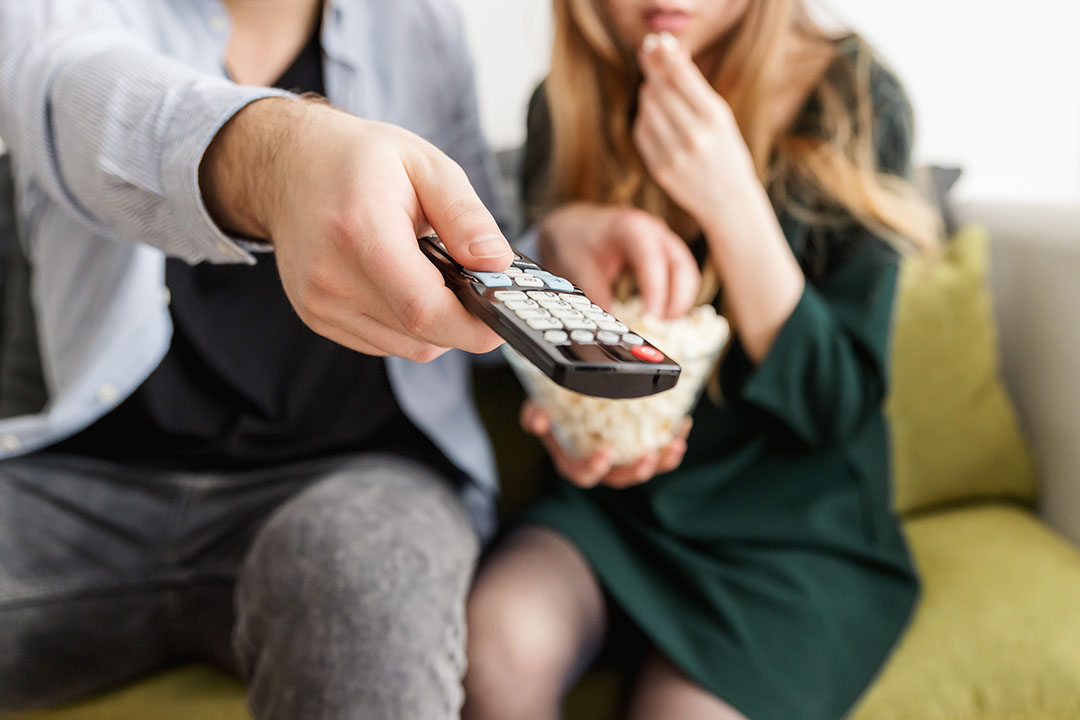 After testing various antennas in different urban areas for instance New York City and several rural areas like Vermont, we came up with 7 most popular HDTV antennas on the market.
Our ranking was done based on the number of channels received, signal pick-up range, audio-visual quality, design, the number of major channels received and the actual performance of the antenna. These antennas promise to bring crystal-clear high definition television right to your living room.
Choosing Between Indoor and Outdoor Antenna
If you are staying miles from the broadcasting tower and you are having a lot of obstructions, then you can go for outdoor antenna.
Outdoor antennas have larger reception and amplification capability but at the same time they are larger in size and takes larger space to install. Outdoor antennas are made for best performance.
Indoor antennas are smaller and easier one to install and are available in number of models. In most of the cases you will be having only one option, indoor antenna. I also prefer you to go for indoor antenna.
Factors Affecting Signals
You may find an antenna working very well in some places while the same antenna may not work fine your case. It is because of the fact that the signal received by the antenna depends on various factors.
Not only the broadcasting signal strength and signal receiving capability of the antenna affects your HDTV quality but also the beam area, directivity, antenna height, antenna angle, interferences and obstructions plays key role.
Now as you know that same antenna that may works excellent at one place may not work at others. Thus it becomes necessary to check which antenna will work better for you.
I will better recommend you to go through any of these websites to choose best suitable model for your area- TVFool.com, antennapoint.com, FCC's DTV Reception maps.
Recommended Best HDTV Antenna
Now when you know well about various types of antennas and factors affecting its workability, you can now go for buying your best HDTV antenna. Let's check, what are the finest models of HDTV antennas available online?
These models are available at price ranging $30-60 on the internet. The price for non-amplifying antenna is even cheaper.
I will recommend you to go through with amplifying antenna as it amplifies the signals and improves the signal quality. Amplifying antennas are somewhat expensive but gives better performance. The above given models are available in both amplifying and non-amplifying type.
5 Best Long Range Indoor HDTV Antennas in 2019
TERK Trinity Trimodal HDTV Indoor Amplified Antenna Review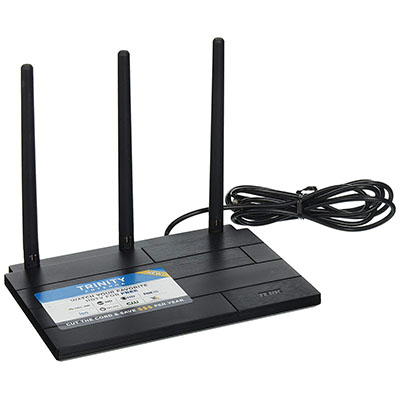 The TERK Trinity Trimodal HDTV Indoor Amplified Antenna provides excellent signal reception for those who do not prefer outdoor HDTV antennas.
This three-pronged antenna may not look as elegant and sleek as most of the antennas on this list but it makes up for its goofy looks by pulling more than 34 channels from up to sixty miles away.
This antenna uses a technology called "Trimodal-approach" to amplify weak signals when need arises and to leave the strong ones alone. This inexpensive device even filters out signal interference to guarantee high quality audio-visual performance.
Winegard FlatWave Amped Digital HD Indoor Amplified TV Antenna Review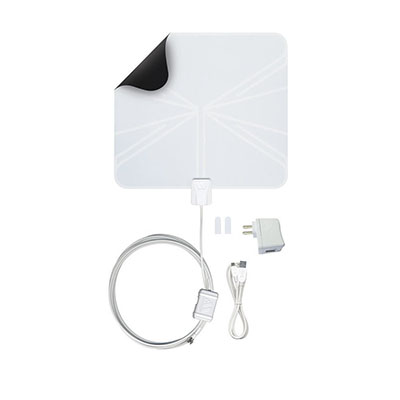 For those living in smaller communities far from a transmitter, this is the ideal HDTV antenna for you. This sleek and elegant antenna picks up both UHF and VHF signals. Its razor-thin design comes in white or black, which can be re-painted to match the interior of your home.
The Winegard Flatwave Amped Antenna has the ability to pull channels from as far as 50 miles. In addition, it features a build-in amplifier which increases signal strength and completely eliminates signal interference. Furthermore, it comes with an 18-foot coaxial cable which gives you the freedom to position it in the best possible location in your home.
Mohu Leaf Metro TV Antenna Review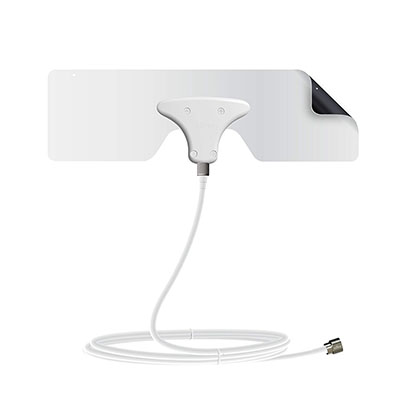 This nearly paper-leaf thin antenna is ideal for compact living spaces. The Mohu Leaf Metro Antenna was designed for homes located close to broadcast transmitters.
Even though its signal range reaches only 25 miles, this antenna still delivers High Definition broadcast straight to your television.
Not only does it come in black or white, but also it can be painted to match any interior. In addition, it is easy to set up and comes with a 10 foot coaxial cable which allows you to install it near the strongest signals. When it comes to price, sleekness and ease of setup, the Mohu Leaf Metro Antenna is second to none.
Channel Master FLATenna Review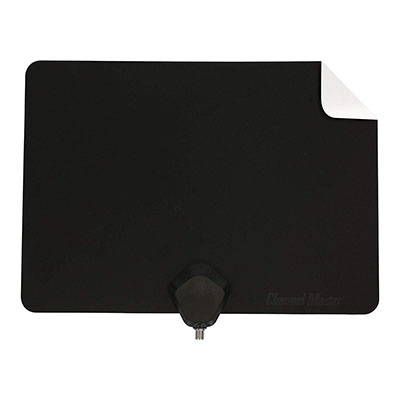 This powerful and most affordable HDTV antenna has the ability to pull in almost all the available stations within range. It has the ability to deliver High Definition broadcasting with minimal signal interference. Retailing at only $17, this is arguably the cheapest and most efficient HDTV antenna on the market.
RCA Ultra-Thin Multi-Directional Indoor HDTV Antenna Review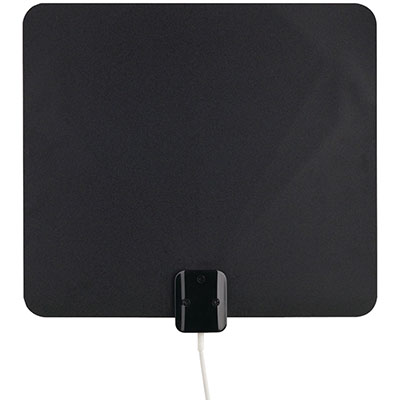 This HDTV antenna is ideal for those who are in a difficult location for TV reception. Also, if your desire is to get as many channels as possible, this is the best antenna for you.
The RCA Ultra-Thin HDTV Antenna is a little bit heavier compared to the Mohu Leaf Metro but it has top class reception capabilities than any other antenna on the market. This classic antenna has the ability to capture more than 41 channels from up to 40 miles away.
2 Best Long Range Outdoor HDTV Antennas in 2019
HD Frequency Cable Cutter HD Digital TV Antenna Review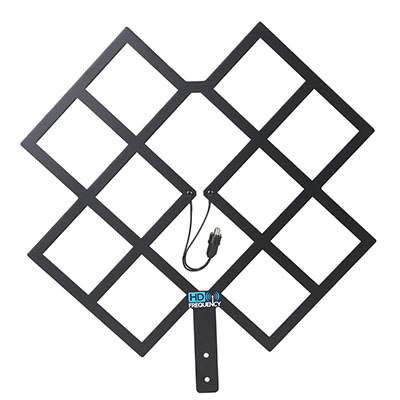 With its simple but unique metal-frame design, this outdoor/indoor HDTV antenna is capable of delivering High Definition broadcasting to your television just like the Mohu Leaf Metro antenna. Furthermore, the HD Frequency Cable Cutter Antenna is super easy to set up and is ideal for both outdoor and indoor use.
Channel Master CM-4228HD High VHF, UHF and HDTV Antenna Review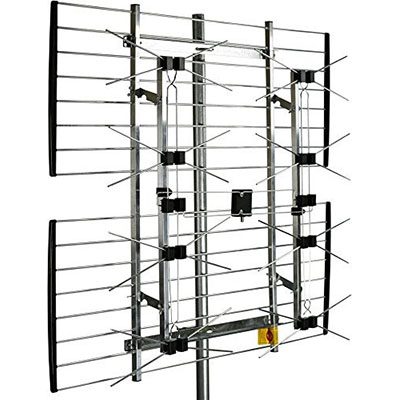 The elegant Channel Master High UHF, VHF-HDTV Antenna allows you to view your favorite channels in High Definition and crystal clear form for free. This outdoor HDTV antenna is designed to receive signals up to a range of eighty miles. Its design readily allows for Attic or Roof installations which gives it stability to capture both High Definition and local signals.
Why Should You Get HDTV Antenna
With the increasing popularity of sling TV that enables people to stream live TV, you may be wondering why you need a thing like HDTV antenna when you can just stream online.
It is now days considered an outdated idea to receive local TV network through airwaves, but truth be told. The emergence of modernized TV antenna system has changed this industry.
One thing many don't understand is that without support for over-the-air network TVs such as ABC and NBC, sling TV still is incapable of being a cable TV alternative.
The antenna system is no longer outdated, in fact, they are widely used by a large population of TV households in the united states who get their TV services and entertainment fix from over- the –air transmission without considerable monthly payment.
In addition to it being a money saver, TV antenna enables access to better signal quality.
If you are still doubting why HDTV antenna have become an option to most household then read through the following benefits that assert why you need to use HDTV antenna.
Quality Pictures
Streaming live TV with such services as Sling TV and Netflix makes you a subject of you ISP and whatever download speed they think appropriate. What this means is that you are going to run into buffering screens and images that are not clear.
With HDTV antenna, you have no loading screen or blurred pictures, just good HD pictures.you may be able to stream but having a consistently high-quality entertainment is the best thing a TV owner can dream to have.
Cheap
I love possessing my property. That's why I will prefer that I buy things ones and for all. sling TV is has a relatively cheap subscription of 25 dollars per month. But buying an HDTV antenna is cost effective.
Subscribing for Sling TV will cost 300 dollar per year which is more than four times the price of a high HDTV antenna that cost 70 dollars. And remember you only buy once and for all.
Who is a Step Ahead
Truly, Netflix and Hulu enables you to watch most of the favorite TV show but you are a step behind. With Hulu, you have to wait several days before watching a new episode and always behind one season in case you are using Netflix.
With Over- The-Air TV, you can never wait. You watch the show live as it is being aired, and if you've got a DVR, you can watch again and again.
Satisfaction
It is not possible to tell the winds and rains to stop. They are inevitable. This is when a TV antenna identifies itself as the best of all. signal disappearance during strong winds is a major concern for dwellers who reside in a region that receives storms. Having an HDTV antenna is just awesome at all the time.
Conclusion
A HDTV antenna is the cheapest and most suitable alternative to minimize your satellite/cable TV subscription charges. Indoor HDTV antennas are a breeze to set up and do not need you to climb onto your roof or into your attic to set them up. On the other hand, outdoor HDTV antennas get a slightly excellent signal range. The choice is yours.