6 Best Led Shower Heads in 2020: Reviews and Buying Guide
Best Regular Mode
DreamSpa Color Changing
Most Versatile
PowerSpa Luminex 24-Setting
Best Rainfall Model
Dream Spa AquaFan
Introduction
The LED shower heads are designed to make your bathing experience exciting and remarkable. From kids to elders, this awesome bathing experience is enjoyed by all. Imagine a rainbow of colors streaming through your body while bathing? These lights are not just attractive; the colors also reflect the temperature of the water. These shower heads are technologically advanced and securely designed keeping safety measured in mind. So, make your bathing experience a novel one with these wonderful LED shower heads from reputed brands. We have compiled a list of LED shower heads. All the products are of premium quality the respective features have been listed to make your selection process easier.
Best Led Shower Head Reviews
DreamSpa All Chrome Water Temperature Controlled Color Changing 5-Setting LED Shower-Head Review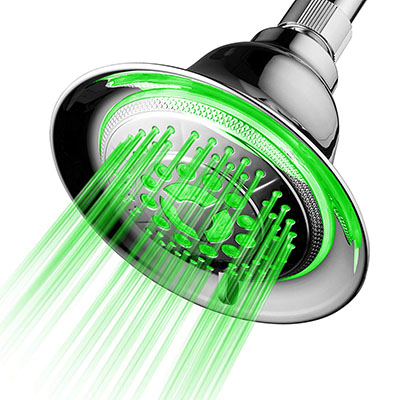 The DreamSpa All Chrome Showerhead has color- changing LED lights. They do not require any batteries and are powered by the water supply. These shower heads have an extra-large 5.25" Chrome Face with Reflective perimeter rim. There are five main settings in this shower head:
Power rain
Pulsating massage
Hydro-mist
Economy rain
Water saving pause
The angle of the shower head can be adjustable. The water temperature sensor has three colors. All these colors reflect a certain temperature. The colors change automatically with the change in temperature. The colors are:
RED – Hot 109-122F (43-50C)
FLASHING RED – Warning Hot over 122F (50C)
BLUE – Cool under 95F (35C)
GREEN – Warm 95-108F (35-42C)
The LED lights have a very long life of 100,000 hours. They can easily function efficiently up to 10 years, even after long hours of use. This shower head connects quickly to the standard overhead shower arm, without any tools. There is no requirement of plumbing and electrical work. The shower head has a high-power 3 zone dial with rub clean jets. These jets are easy-to-clean. The lever can be operated with a click and the rim accent is designer beveled.
The product dimensions are 5*5*5 "and it weighs 9.6 ounces. The user can set the shower head settings to his preference mode. The head of the shower is larger compared to the standard shower heads and if you change the setting to Power rain, it would be a torrential bath, leaving the mind and body fresh and relaxed. The water-saving pause is an energy efficient option if you apply products on your body and want to wait for a while before bathing. The economy rain option is an eco-friendly option which enables a low water stream. The hydro massage provides a great bath after a tired day.
The LED shower head has a warranty of 1-year by Interlinks Products International, Inc. This warranty would not be valid if the purchase is from an unauthorized vendor. The product can be returned to the Company in the case of malfunction or defective parts.
Luminex by PowerSpa 7-Color 4-Setting LED Shower Head with Air Jet LED Turbo Pressure-Boost Nozzle Technology LED colors change automatically every few seconds Review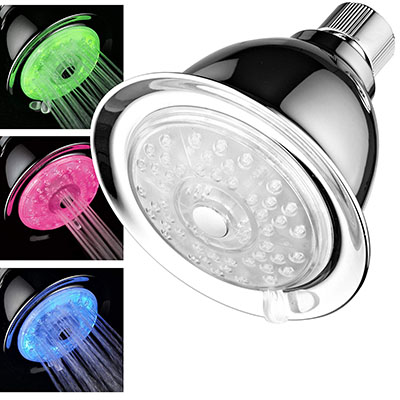 The Luminex by PowerSpa has 7 LED colors that switch every few seconds. These lights are powered by the running water and do not require any extra batteries. The shower head has a 4" face and 4 settings. These settings are –Rain, Massage, Rain/Massage mix, water-saving economy. The rain/massage combination provides a therapeutic bath experience. Kids love the bright changing colors and are ready to take a shower anytime of the day.
The Hydro Supercharged Turbine LED feature and Air jet design maximize the water output pressure performance by blending oxygen into the water flow. This is done through 48 elastic nozzles that spurt out a strong stream of water and provide a spa-like experience. The nozzles can be rubbed clean to avoid clogging.
The High-power 3 zone dial and click action lever ensure easy manoeuvring of the shower head. The body of the shower head is chrome-plated and resilient to water corrosion. The shower head connects easily within a few minutes to the existing shower arm and does not require any additional tools. The LED lights have a lifespan of 100,000 hours. This means that, they will function up to 10 years even after regular usage.
The product carries a 1 year warranty against defective and malfunctioning parts. The warranty is provided by Interlink Products International, Inc. The warranty becomes void if the purchase is made from an unauthorized dealer.
Bathing under this shower head is indeed a unique experience with constantly changing lights and a strong force of water enveloping the body. PowerSpa has come up with an outstanding product, complete with features and design.
Dream Spa AquaFan 12 inch All-Chrome Rainfall-LED-Shower-Head with Color-Changing LED/LCD Temperature Display Review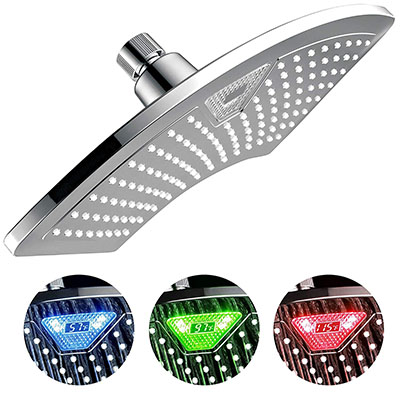 The DreamSpa AquaFan 12 inch shower head is a fixed mount shower with LED display. The LED is powered by running water and does not require batteries. There is an in-built temperature sensor and the LED lights reflect 3 different color shades which correspond to temperature change:
Red – Hot (109° F-122° F)
Flashing red – Warning (above 122° F)
Blue – Cool (below 95° F)
Green – Warm (95° F-109° F)
The shower head has 123 jets that can be easily cleaned to avoid clogging. These jets provide a high-power heavy rainfall bathing experience. The LED lights will add to the bathing experience. The face of the shower head is a classy 12" carved fan design for a perfect drench and shoulder-to-shoulder coverage. The angle of the shower head is adjustable and the LED lights have a long-lasting life of 100,000 hours i.e. 10 years.
The premium chrome finishing of the shower head not only adds to the aesthetics of the surroundings but also provides toughness and water resistance to the equipment. It protects against corrosion, abrasions, and rusting. The temperature display option is convenient and allows the user to keep track of the changing temperatures.
This showerhead is a modern contemporary design that adds to the beauty of your bathroom. It weighs 1.2 pounds and the dimensions are 6.5 x 4 x 12 inches. These shower heads come in standard sizes and usually get installed in any shower arm. The fittings are easy to install and do not require heavy tools. Therefore, they are great gifts for house-warming occasions, weddings, anniversaries, thanksgiving, and Christmas.
The showerhead has a 1-year warranty, provided by Interlinks Products International Inc. It is against defective and malfunctioning parts. In case the product is purchased from an unauthorized dealer, the warranty will become void.
Luminex by PowerSpa 7-Color 24-Setting LED Shower Head Combo with Air Jet LED Turbo Pressure-Boost Nozzle Technology. 7 Vibrant LED colors change automatically every few seconds Review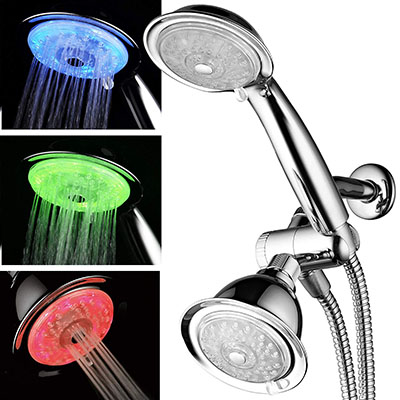 The Luminex by PowerSpa Shower LED Head Combo is a combo of 24-setting color changing LED showerhead and a LED handheld shower. There are 7 different colors embedded in the LED which changes every few seconds and eventually merges into one another. The shower heads have a Hydro Supercharged Turbine LED and an Air jet design that increase the water pressure tremendously. They do so by injecting oxygen into the water with 48 nozzles. These elastic nozzles can be scrubbed clean to prevent clogging.
The shower heads have a 4" diameter head and have 4 settings namely- Rain, Massage, Rain/massage, and water-saving pause mode. The rain with massage option is the best setting if you want a rejuvenating bath. The angles of both the showers can be adjusted. The water-saving option has been provided to stop the flow temporarily when the water is not needed.
The handheld shower is to an up-close experience of bathing and easy maneuvering. It can be removed from its bracket and used conveniently. This combo has a 3-way water diverter with an Anti-Swivel lock-nut. The Extra-flexible stainless steel hose is 5 ft in length. It has 2 brass conical nuts that are used for easy tightening. The installation process of this showerhead combo is easy and can be installed in minutes to the overhead shower arm. A plumber's tape has been provided with the showerheads for fitting purposes.
The product weighs 1.5 lbs and its dimensions are 6*2*9 inches. These are wall-mounted chrome-finish showers with premium quality. The LED feature is simply adored by kids and the high-volume water pressure adds to their fun. The handheld shower feature is particularly useful when you want to give your children or your pet a thorough wash. This shower head will be the ideal gift for Christmas, thanksgiving, birthdays and house-warming parties.
The combo shower head gives the user a variety of bath options to choose from. They are both equipped with the LED lights and you can bath your children with the handheld shower, or enjoy the gushing droplets from the overhead shower. The product comes with a 1-year warranty. It becomes null in the event of a purchase from an unauthorized retailer. The warranty is provided by Interlinks Products International Inc.
Hotel Spa 3 Colors LED Hand Shower with Temperature Display, Chrome, 4.25" Review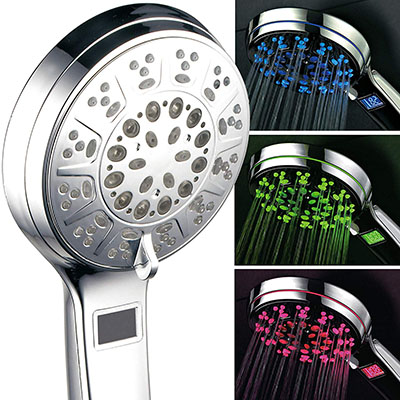 The HotelSpa All Chrome 5 Setting LED/LCD Handheld Shower-Head showcases a light LCD temperature display. This advanced showerhead is designed for a spa-like experience right in your bathroom. The LCD/LED is run by water and no batteries need to be installed.
The shower head is fitted with an inbuilt Automatic Temperature sensor that has a color-changing lighted LCD display. It senses the temperature and changes the colors in the LCD accordingly. This item can be used both as an overhead shower or even a handheld shower head. The head of the shower is 4.5" in diameter and is in the chrome finish. The features include a 3 zone Precision Spiral Flo dial and a click-action lever. The jets can be rubbed clean which ensures no clogging. The kit includes an Angle-Adjustable Overhead Bracket and an extra-flexible Stainless Steel Hose with dual conical Brass Hose nuts to tighten the fittings.
The HotelSpa showerhead requires absolutely no tools for installation. No plumbing work and no wiring are needed and it takes only a few minutes to install. The five settings in the shower are Power Rain, Pulsating Massage, Hydrating Mist, Water saving-economy, and Pause modes. The above-mentioned features, the extra height of the shower, and the LCD lights, are sure to make bathing a divine experience. The LED lights colors are:
FLASHING RED – Warning Hot over 122F (50C)
RED- Hot 109-122F(943-50C)
BLUE – Cool under 95F (35C)
GREEN – Warm 95-108F (35-42C)
This product weighs 1.2 pounds and the dimensions are 12*2*9 inches. The body is in chrome finish adding a classy look and toughness to the shower head. This shower head carries a 1-year warranty which turns void if the product is manufactured from and unauthorized dealer. The warranty is provided by Interlinks Products International, Inc.
The product is unique as it offers temperature readings so the user does not have to keep tracking them. The massage and rainfall features, spray patterns, and pause setting, make this a highly-advanced product. The shower head provides a superb shower experience with LED lights adding to the charm. You will definitely look forward to enjoying your showers with these unique shower fittings.
This showerhead can either be wall-mounted or used as a handheld shower. The kit contains equipment to fix the shower in either way. This shower head can be installed in home bathrooms and also used by hotels for their bathroom setup. They are great gifts to be given to loved ones on special occasions.
LightInTheBox 20 Inch Wall Mount Square Rainfall LED Shower Head, Stainless Steel Review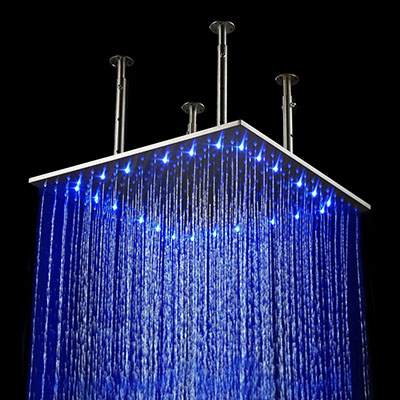 This Square Wall Mount Rainfall LED Shower head from LightInTheBox is a stainless steel rectangular-shaped showerhead. The shower face dimensions are 20"*20" and the body has a brushed finish. This contemporary style shower head has LED lights in three colors Red, Blue, and Green which is powered by the water flow. These LED lights are regulated by temperature change.
It is a ceiling-mounted showerhead with a standard connection of G ½. The dimensions of the showerhead are 21.5*21*3.5 inches. The shower is pink in color and weighs 19 pounds. The hand/level placement of the shower is wall-mounted. LightInTheBox is a reputed registered brand in the USA and it is known for its high-standard bathroom and kitchen accessories. They make faucets with quality materials that are strong and long-lasting. The double-bolt installation with a heavy brass base ensures durability.
The Sprinkle faucets installed with the shower head are water-resistant, anti-corrosive, and can withstand high temperatures. They are made of special copper metal with the minimum use of lead, rendering a tough product. They provide superior quality products at value prices.
Note: LightInTheBox does not have any retailers in the U.S. The 100% original products can be purchased from TheLightInBox home store.
These bathroom accessories are top-of-the-line products that are supplied all around the world. LightInTheBox has satisfied customers all around the globe. Their online services are excellent and provide the user details of the product extensively. They then guide the user for order and payment details. Deliveries are prompt and the shower heads come in well-sealed packages.
The impeccable quality and stylish finish of the product can easily lure a customer to buy it. Moreover, at 20"*20", it's a huge shower face, which offers a torrential downpour with changing light colors. These are premium quality products from a reliable company.
Bottom Line
These shower heads are attractive and unique. They are a great way of changing the boring and old-fashioned look of your bathroom. These are technologically advanced and a vast array of the collection is available to choose from. The user has to carefully weigh the pros and cons about the shower head specifications, features, and utility. There are combo offers available where the wall mount and handheld shower is available together in a pack. There are shower options where the showerhead can either be mounted or handheld. Bright LED colors that are regulated by temperatures are a novel way to enhance your bathing experience. Warranty, returns, replacement and company reputation should also take heed of before making the final selection.