Ultimate Guide to Choosing the Best Instant Camera in 2020
Best for Weddings
Fujifilm Instax Wide 300
Best For Low Light Photography
Polaroid Snap Touch
Best for Kids
Fujifilm Instax Mini 9
Introduction
Polaroid/Instant cameras allow users to capture photos and take print out instantly on a paper. They are cheaper as compared to modern digital cameras and also serve the purpose of a cool gadget. So whether you are a professional photographer, traveler or tech enthusiast, you must have the best instant camera to capture memories.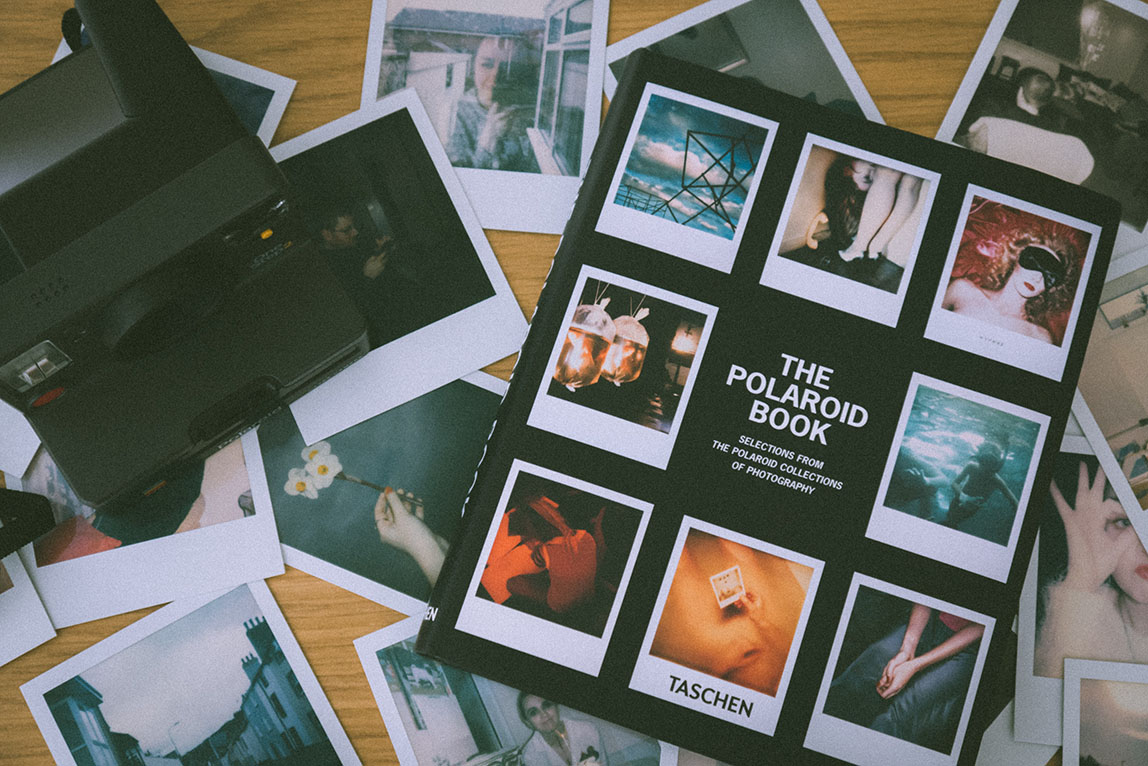 In today's modern era of DSLRs and mirrorless cameras, talking about instant cameras might sound weird but still digital cams can't replace the need for these retro gadgets. They utilize a self-developing film to produce a chemically developed print out just after you click. Modern cams still lack this instant printing feature.
Why you should have Instant Camera?
While the magic of Photography is still in the air, the importance & demand of instant cameras keeps on increasing. With the modernization of the technology, The modern digital cameras have occupied the Photography market but still instant cameras are being used by many professionals and armatures to instantly capture & store their precious moments of life. The biggest benefit of instant camera is that you instantaneously get the retro style print in your hand. As you click the shutter button, the camera magic starts and after a few seconds, you have that precious moment stored on the paper for the whole of your life.
Although photography with instant is an expensive hobby, still it is not a bad option. The instant cameras encourage the user to use the basic photography skills & to select the composition carefully considering the inbuilt camera options. You have the option to choose the best camera film out of dozens of available options. One can use border film or black and white films to add extra crisp in the photographs. While using the DSLR or Digital cameras people usually don't take photographs carefully as they can always clean the memory to get more space for new images. But with instant cameras, users need to be very careful while capturing each single shot as it costs much to them. You can capture & paste these credit card size images anywhere in your room. So whenever you look on them, they will revive the memories of your beautiful past.
Instant cameras are important gadget if you are a frequent traveler. You would love to click those memorable moments with your hosts, take printouts and gift them to your loved ones. You can use it on events like birthday parties, wedding functions, formal gatherings hangouts to capture the moments of joy and share the images with your friends and relatives. It is really enjoyable to save memories while doing photography in retro 90's style.
How to Pick Insant Camera – A Buyer's Guide
There are many instant cameras available in the market. Each of them has different features but which one to choose is a difficult question. While choosing the camera, you should consider many factors according to your needs and requirement. One may compromise the battery timing but require high quality of the image. While other person may choose a camera having different modes of exposure and brightness adjustments. While writing the above best instant camera reviews, we have compared some special factors that are very important to consider when choosing an instant camera. Following are some of the important features you should keep in mind in order to pick the right product.
Price
Camera Lens
Exposure/Brightness control options
Battery
Design of the Camera
Specifications
Image Capturing modes
Film type
These factors vary from amateur to experienced photographers. Considering all these factors, one can select a suitable Instant camera. I hope that after reading the above instant camera reviews, you will be able to select the best available option for yourself and enjoy the limitless fun by taking instant photographs of priceless moments in your life.
Brands
Best Instant Camera Reviews
Fujifilm Instax Wide 300 Instant Film Camera Review - Best Instant Camera for Weddings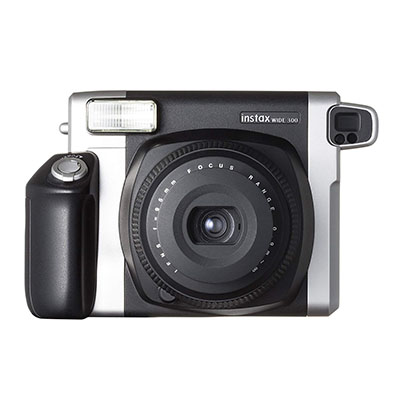 Instax 300 wide Instant camera is one of the best instant cameras that are still in production. Using this camera is a lot of fun especially when you want to save your life moments on wide films. Its size is bigger as compared to the other Fujifilm instant cameras. The dimensions are (3.8 x 7.4 x 4.8 inch). The grip is adjustable and inside the grip, there is a battery component. It uses 4 AA size batteries. The focal length is quite good enough to capture closeups and its batteries are easily available in the market. So it's a perfect choice if you are looking for the best instant camera to buy for weddings & parties.
Features
Fujifilm wide 300 features retractable lens and a built-in automatic flash. It comes with an optical viewfinder, a prime lens and big hand grip on the side. The shutter release is at the top. The camera has two simple focusing options. One can set it to focus closely while the other option focuses far objects. FujiFilm Instax Wide 300 captures good quality images in daylight but still, it is difficult to get the required perfection as there are no options for manual adjustment of exposure or brightness.
Picture Size: 62 x 99 mm
Lens: Retractable, two components.
Aperture: f/14, fixed
Focal Length: 95 mm
Focusing: 2 range Motor Driven Switching, Normal Mode ( 0.9m-3m ) Landscape Mode ( 3m-∞)
Exposure: (ISO 800) Automatic Interlocking Exposure
Recommended Films
It uses the two large size Instax Wide Films which are double in size as compared to the mini Instax films. You can get the films from Amazon at a cheap price.
Pros and Cons
Pros:
Easy to use
Wide format Instax film
Close focus Adapter
Best for close up shots
Cons:
Big size
Limited options for exposure control
Subject appears larger due to more focal length
Fujifilm Instax Mini 9 Instant Camera Review - Best Instant Camera for Kids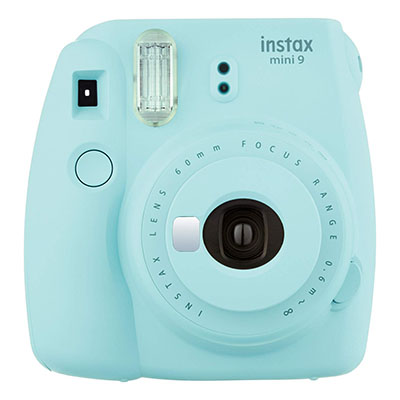 Being one of the most recognized manufacturers of photography gear, Fujifilm released this model to fulfill all the basic needs of a photographer. Fujifilm INSTAX Mini 9 is a reliable and best instant camera 2020 having good reviews and is cheaper as compared to other models. It can automatically detect the exposure conditions and adjusts the brightness before capturing the image.
Fujifilm INSTAX Mini 9 instant snap camera comes in five (5) different colors including flamingo pink, cobalt blue, ice blue, lime green and smokey white. It can be a nice birthday party gift for your kids and they would love to have this nice gadget.
Features
The aperture size is adjusted automatically along with its powerful LED flashlight. The high-key function enables soften effect on captured images. Users can adjust the dial as per the surrounding weather conditions (sunny, cloudy etc.) in order to shot a perfect instant snap.
Coming towards some drawbacks, this model doesn't come with a film. So users should buy a separate film along with the camera. Also, there is no option to save the images digitally. Alternatively, you can capture photos on film and then scan them later on to have a digital backup of your snaps.
Recommended Films
FujiFilm Instax Mini 9 is compatible with all Instax Mini films. Some of the Recommended films include Instant Day Light Film, Chromium Film, rainbow film and shining stars film.
Pros and Cons
Pros:
Easy to handle and use
Slimmer & compact in size
Affordable
Cons:
No option to save the image digitally
Polaroid PIC-300 Instant Film Camera Review - Best Instant Camera Under $100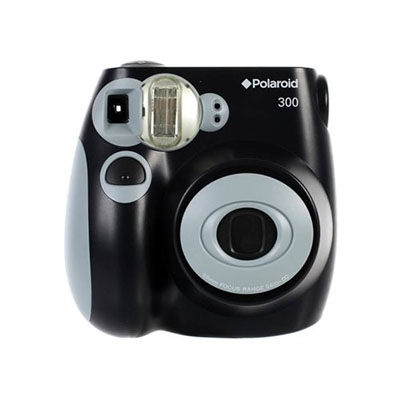 This is a Polaroid branded version of Fujifilm Instax camera and uses the same instant film as Instax mini. Polaroid PIC-300 is one of the cheapest instant film camera which is quite affordable when it comes to the price.
As compared to its predecessor from the 70's, this one is smaller in size but still quite large in size when compared with modern cameras. New Polaroid has everything which you love about instant photography. Polaroid 300 comes in four colors – red, black, blue & purple .
It is a little bit heavy as compared to the other models and not suitable for low-light environment. So you have to be careful while taking pictures in low light environment. Its disadvantage is that the view finder is wider than the picture frame. So the view finder gives a poor idea of the reference picture and the photo appears smaller.
Features
This camera has a sharp lens but there is no zoom facility available in it. It works with four settings: clear, fine, cloudy and indoor. Polaroid 300 works with four AA-Size Batteries. It is equipped with an automatic flash & performs best in portrait shots. The photo usually gets dark if taken in low light. Also, the action shots are blurry.
Loading the film in Polaroid pic-300 is very easy. Simply unwrap the back slot and place the film in it. The pictures come out from the top once you click the button after focusing on the subject.
Recommended Films
Polaroid Pic 300 uses only PIF 300 Instant film. With an ISO of 800, the film produces glossy and colorful print. One can store their priceless moments with instant photography even the price per unit is enough to make cringe.
Pros and Cons
Pros:
Compact Size
Branded Model
Automatic flashlight
Having Four different Picture Modes
Easy to carry for events or traveling
Cons:
No zoom option
Heavy as compared to the other models
Not good for low light scenes
Polaroid Snap Touch Portable Instant Print Digital Camera Review – Best For Low Light Photography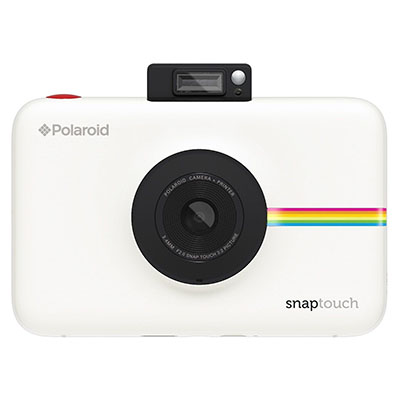 Polaroid snap touch is the modern version of the classic instant snap cameras that has many unique features. It comes under the category of instant digital cameras which allow you to take photos, print and share them with a modern user interface and Bluetooth connectivity option.
This camera improves your control over the use of paper pack. The default options are still good to take the reasonable details of the scene. You can also change the contrast and brightness settings to get the desired image quality.
It comes in white, blue, black, purple and many more cool colors. You can select one to save the precious moments of your life with instantly printed snaps.
The best part about Polaroid snap touch is the flexibility. You can choose the option to print photo everytime when you press the shutter button or otherwise storing everything digitally. It is one of the best instant cameras for low light photography.
Features
The biggest advantage of Polaroid snap touch instant camera is that it has storage capacity up to 128 GB which allows you to save pictures and videos in soft form. The manufacturer has ditched the top viewfinder and replaced it with a selfie mirror and flash in this model. So it is also a suitable option for selfie lovers. It has a physical shutter button that makes it look classic but everything other than that can be controlled by 3.5-inch touch screen.
It features a 13 MP CMOS sensor, self-timer and selfie mirror options. There are three color modes; black and white, color and vintage sepia for making your moments more special. You can record video in 1080p resolution using the 13 MP HD camera paired with a 3.4 mm, f/2.8 lens. In this modern Polaroid snap touch cam, the video quality is fine with smooth frame rates.
One thing which I don't like about Polaroid snap touch is the unavailability of image stabilization option which makes the video a little jittery if not properly handled. The snap touch is more likely for taking still pictures but video recording is also a good option with 1080p resolution.
This is the best Instant camera 2020 having some cool filter options. It has a built-in photo printer which uses thermal paper reacting technology to heat the paper and develops an image on it. That's why sometimes the image results are not as good as Fuji Instax Paper which takes some time to develop the image and produces more clear results. The camera results are best for daylight scenes and not too good in darkness. Considering the drawbacks, it comes with a low-resolution screen. The screen features the basic TFT with a grainy texture. The Menu is very basic and the on-screen icons are very simple.
Recommended Films
It uses the Premium Polaroid Zink Paper which is resistant to water, smudges, and tears. This film is specially made for the Snap Touch built in Zero Ink Printer.
Pros and Cons
Pros:
Touch Screen
1080p video recording option
Memory card to store images digitally (upto 128gb)
Selfie Mirror
Built-in Image filters
Cons:
Screen resolution is not good
average print quality
Slow auto-focus
Fujifilm Instax Mini 90 Instant Film Camera Review – Professional Instant Camera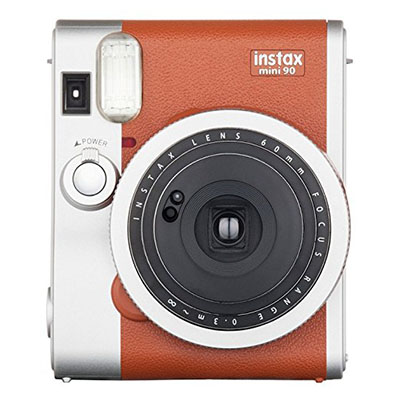 FujiFilm Instax Mini 90 is one of the most popular Fujifilm instant cameras in Asian market and its market is growing very fast, making it one of the most important products of Fujifilm. The Instax Mini 90 is a good attempt to attract serious professional photographers who are motivated for excellence in their field.
With its beautiful retro design resembling Fujifilm's beautiful X series, this camera is now more than a gadget. The shape is specially designed to give it more professional look. Although the Instax mini 90 is made with the plastic body, still the luxury Leather straps feel great to be touch.
Talking about the comfort zone of the camera, you can use it in both portrait and landscape modes as both modes have a capture button ensuring a comfortable grip. With a long lasting rechargeable battery, it is more fun to take this camera on holidays or in a parties to save previous moments.
Features
There are many cool features in this small bundle of enjoyment. Understanding the 7 different shooting modes is not difficult but the best one is the portrait mode with double exposure option. The "party" mode reduces the shutter response to get more background details whereas the "kids" mode uses short shutter speed to instantly freeze action. There is a bulb exposure mode that keeps the shutter open as long as shutter button is pressed.
When the camera is turned off, the lens quickly retracts back giving it more compact look. The camera has a power on/off button, shutter release and flash option on the front. The top of the camera is the receiving end for printed photos. The back of the camera comes with handy buttons to control exposure compensation, time and different shooting modes.
It is really easy to take an image with Instax Mini 90 but the camera lens has a fixed f/12.7 aperture which means you might need to rely on the inbuilt flash option to brighten the original image. Still, it takes a very good image as compared to the other compact digital cameras in the very same situation.
Considering the focusing mode and exposure of the image, Instax Mini 90 can produce really a great image with much more details. One can lighten or darken the image or use the bulb mode in the dark to produce long exposure. But considering the cost of the film per shoot, one may not like to experiment with the options and stick to the default focus options.
Coming towards some negative points, the viewfinder sometimes not properly defines the reference of the original image and you might get a little distorted or interrupted image. The film is too expensive to experiment different modes so it is an expensive deal to understand the real photography techniques with this instant snap camera.
Recommended Films
Fujifilm Instax mini accept all the variants of Instax Mini films. Although the paper is as big as the size of a credit card still the actual photo size is somewhat smaller due to the surrounding thicker border. One can use color film with multiple borders or monochronic film with this Fujifilm Instax Mini 90 camera.
Pros and Cons
Pros:
Advance photography functions
Capture buttons for both directions
Luxury comfort leather touch
Lightweight
Rechargeable batteries
Cons:
Size is big to adjust in pocket
Manual Exposure require professionalism to get the perfect click
Viewfinder gets distorted image sometimes
Leica Sofort Instant Film Camera Review – Best Instant Camera for Selfies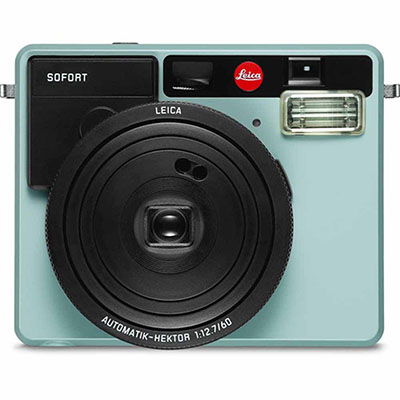 Leica is a very well known German company which is among the top photography gear producing companies. This is the most awaited Polaroid instant camera which is best for selfies and equipped with dozens of cool features. Leica launched this model with a classic rectangular shape. It comes with pretty decent options for shooting images which make the polaroid photography simple. The battery is removable and can take up to 100 shots when fully charged.
There is a small optical viewfinder that can be used to to get some assistance in locating the subject while shooting. On top, there is a quick shutter button. When you press the shutter button, the machine starts to work and the picture appears after a few minutes in hard copy format.
Features
On the front side, there is a lens which expands or collapse when the camera is switched on or off. Around the ring, there is a ring to switch between long range and close up focusing. There are additional four buttons on the back side of the camera which are for mode change, self-timer, flash, and exposure adjustment. There are many modes available like party, selfie, sports, macro, bulb and double exposure mode.
Some Bad points, it costs a lot for every shot due to expensive film. Also the focus is not too good and sometimes it becomes really struggling to focus the subject perfectly.
Similar to Instax mini 90, the image surrounds a thick border making the image look smaller. The image quality is highly compromised when you go for manual options.
Recommended Films
One can buy Leica film for this one but it is also compatible with Instax Mini film format. There are 10 instax pack shots available for each film. To insert the film, open the back door and place the film pack inside. The display screen shows the mode settings and the remaining films.
Pros and Cons
Pros:
Uses Widely available Instax Film
Ergonomic design
Compact and easy to use
Variety of Shooting modes
Cons:
Limited focus options
Mixed image results
No manual controls
Fujifilm Instax Mini 26 Review – Best Instant Camera Under Budget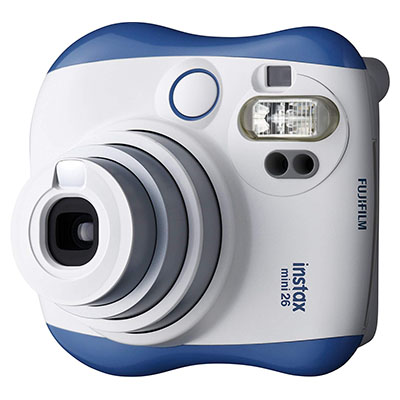 Fujifilm has a long list of instant Polaroid cameras and Instax mini 26 is also one of them. It is a perfect, stylish yet inexpensive Polaroid camera that can be used at different occasions to quickly print the moments of joy. The camera is light weight having dimensions (112 x 121 x 50.5 mm) and can be purchased from Amazon at very low price. This mini instant camera is ergonomic with a perfect handgrip. It works with replaceable CR2 Lithium Batteries which can easily capture 30 pictures. This cam is available in three different color combinations, White/Cream, White/blue and White/Pink.
Features
FujiFilm Instax mini 26 has an impressive 60mm Fujinon lens which can focus from a distance of 0.5m or more. The lens can also be used to take close-up images up to 35 centimeters away from the camera. This allows you to magnify the subject into a large image without distorting the quality.
There are two shutter buttons to capture the image. One button is for the portrait mode and the other is for the Landscape mode. This makes it easy to take a picture in any mode so you don't need to rotate your arm or adjust your neck to take the picture.
To take the selfie, there is a small mirror beside the lens. This camera has a perfect flash to brighten the image. When taking the image using the default setting, the camera detects the background light and adjust the shutter speed accordingly for the perfect snap.
Lens: 60mm
Focusing: Motorized 0.5m – ∞
Picture Size: 62 x 46mm
Flash: Automatic, Flash range 0.5 m -2.5 m
Weight: 275 g ( Without Batteries )
Shutter Speed: 1/3 – 1/4000 sec
Recommended Films
The camera start printing the film instantly when you take a shot and it almost takes 90 sec to print the perfect image. Instax Mini 26 uses (2″x3″) instant film which is about the size of a credit card. One can use Rainbow Film bundle or Instax mini bundle as per their requirement.
Pros and Cons
Pros:
Having selfie mirror for selfie lovers
Two shutter buttons
Zoom lens to take closeups
Uses easily available mini style film
Lightweight and small in size
Cons:
Made of plastic so needs care
Film is little expensive
Battery needs replacement after 30 shots
Lomography Lomo'Instant Camera Review – Best Instant Camera with Wide Angle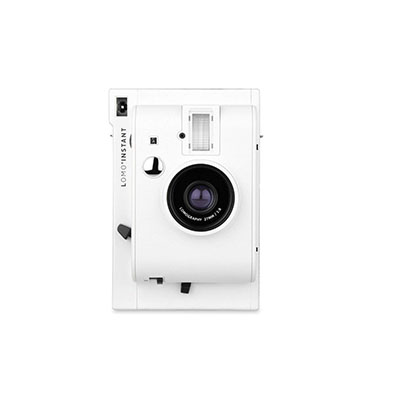 Lomography announced the most desirable instant camera that has many more features and control options for daily routine photography. With so many options of modifier and potential combination, it is more fun now to capture instant snaps/photographs. The size of the camera is somewhat big but still, it can easily fit in the average hands. The design is similar to many Vintage style Polaroid cameras. It is available in five cool colors that include brown, blue, green, white & black.
Features
The camera comes with many adapter lens and camera modes. On the front side there is a focus selector that has three basic modes, mountain, body and face. The default lens is 35 mm that can be stepped down to 22mm using the attachment lens. Lomo Instant wide has bulb mode and a PC synchronizing port to do multiple exposures.
Exposure area: 64mm x 99mm
Focal Length: 90mm
Exposure type: Automatic
Aperture: Two settings f/8, f/22
Ejection Mechanism: Motorized
Close Focusing: 0.6 m distance
Battery: 4 AA size batteries
Flash: Automatic mode and Flash OFF mode
Recommended Films
Lomo Instant wide uses the same wide film as Fujifilm Wide 300 Instax Film.
Pros and Cons
Pros:
Uses large instax wide film
Multiple exposure modes
Sharp Lens for clear image
PC synchronization port
Selfie Mirror
Cons:
Big Size making it bulky
Expensive for a large number of shoots
Polaroid Originals 4723 Polaroid 600 Camera, Flash, Black Review – Best Vintage Instant Camera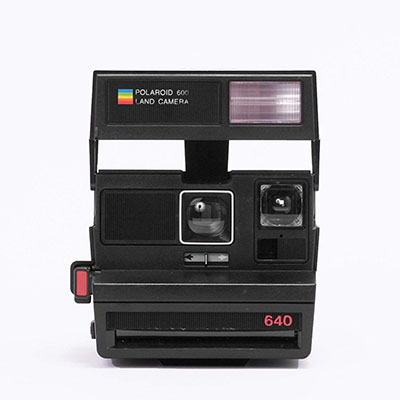 Polaroid 600 is a bulky yet still the best vintage Polaroid camera to take instant snaps. This camera is not as beautiful as Snap Touch Polaroid but this can be more fun to use especially when you want to try the manual options. This cam is currently refurbished by Impossible and comes with an extended frog tongue from Impossible which ensures complete development of film when it is expelled from the camera. The size of the camera is (7″x 7″ x 6″).
Features
Coming to the features, it comes with a single element 106mm lens that can focus as far as 4 feet away and is suitable for both indoor and outdoor usage. It contains a built-in single use battery to power both the camera and the flash. The flash charging is automatic and it charges in a few second when you insert the film or switch on the camera. The major specifications of the camera are as below.
Camera size: 7″x 7″x 6″
Flash: Automatic
Lens: 106mm
Aperture range: f/14- f/42
Recommended Films
It uses Polaroid Originals 600 film that gives the effect of mid 80's images. Some of the recommended films are B&W Round films for 600, Color film with Golden Frame & Color film for Impossible 600 square camera.
Pros and Cons
Pros:
Fun to use
Vintage look
Beautiful scene capture when overexposed
Cons:
Camera size is very big
Limited exposure options
Conclusion
Photography is not just a hobby but its also a nice way to preserve memorable events. It's always a good option to have the best instant camera to keep the print-outs of photos with you. In case of a digital camera, if your memory card gets corrupted or mistakenly you format the internal memory, all of the stored photos will be deleted instantly. While having a instant camera, there is no need to worry about data loss. Some latest releases even allow you to keep the digital file stored in the memory along with a print out of it.
When you will visit nearby market or some online store, there you will find hundreds of instant snap cameras. There are dozens of options for all budgets ranging from cheap instant camera with low price to high-end expensive cameras with advanced functions. Apart from budget, you should consider the features and reliability of product (warranty etc.) before picking the final one.