Best Baby Carrier & Wrap Reviews: Babybjörn vs. Infantino vs. Moby Wrap
Best Value
Babybjörn Original
Best for the Money
Infantino Swift Classic
For Wrapping
Moby Classic Wrap
Introduction
All baby carriers are differently designed so it is of utmost importance that you make the correct choice. Some baby carriers are designed so that you can even feed your baby discreetly, which is a huge convenience, especially if you are eating out or shopping. As your baby carrier or sling will not stay clean for very long you need to buy a model which is either hand or machine washable and read reviews to see if that model is prone to fading, bobbling or piling and shrinkage. The instructions which come with the baby carrier should be easy to follow and ideally you should not have to keep consulting them each time you are using it. Also, find out whether you can put the baby sling on by yourself or does it take two pairs of hands to fit it?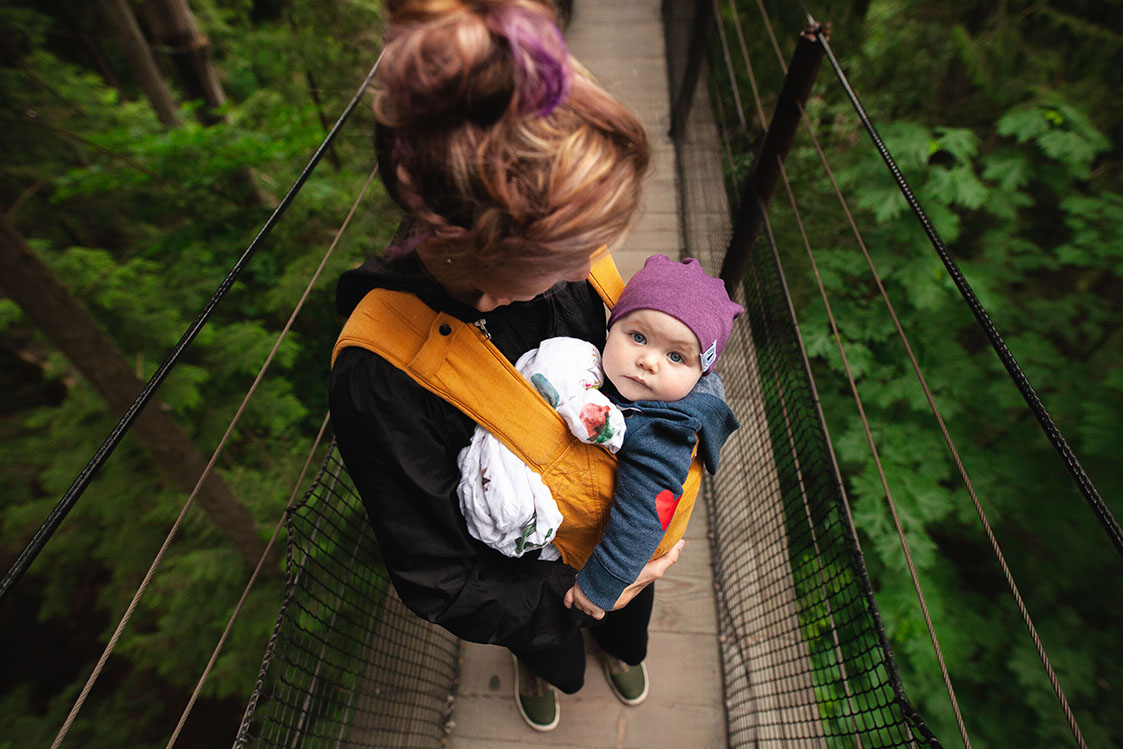 Baby carriers have to offer optimal comfort for both baby and parent. It should ideally have at least two positions and should be ergonomically designed. Safety standard labels must be clearly visible to give you peace of mind and last but not least, the best baby carrier should optimize your bonding experience with your baby as those first precious months fly by so quickly. By reading our product reviews we hope you can save yourself money and hassle by discovering which is the best baby carrier for your family.
How To Choose A Baby Carrier
Always have your baby's comfort in mind when thinking of buying a baby carrier. This should be the first thing to consider. You should look at the design of the baby carrier and see whether your child would be comfortable in it. Also, make sure that the material is soft and breathable for your child since some children tend to put their faces on the material as they rest.
Think of your comfort when looking for a suitable baby carrier. Get something that evenly distributes the baby's weight carefully so that it's not heavy for you. To avoid having the baby carrier pressing down to your skin, you should get one that is padded. The pads prevent you from feeling the strain of the wrap as you carry your child around. Also, think of your body size when you are buying the baby carrier since most baby carriers are made to fit different body sizes.
You should pick a material that is strong and sturdy. Know what kind of material used to make the baby carrier and see if it is safe enough for your child. You should also look at the types of straps or buckles that the baby carrier has. Ensure the straps and the buckles are in good order and that they cannot easily break as you are using it.
Get a carrier that is easy to use. You should not get one that is hard to navigate especially when you want to place it on or off quickly. Get something that you can operate by yourself, and also something that you can operate without having to disturb your child when moving him.
You should also consider your child's age and weight as you pick a baby carrier. The baby carriers come in different sizes, you can buy different baby slings as your child grows. If you however want to save costs, then you look for a baby carrier that can easily adjustable as your child grows.
Choosing A Baby Carrier – What You Need To Know About
Considering that the baby product market is highly flooded in the modern day, it can be quite hard task to choose the best baby carrier. If you harbor this perception, this article might be mind changer for you. Whenever you are choosing your baby carrier, you need to go for a product that is not only comfortable but also flexible and convenient for little one. Here are some pointers on some of the key aspects you need to look out for when making the purchase.
The Baby's Age: This is one of the key aspects to consider before setting out to make your purchase at the stores. If the baby is too young, you might need to consider a single carrier that is most suitable for toddlers or just a carrier that is made specifically for carrying young babies. If you have twins, you might need to buy two carriers. This is where trolleys beat these carriers hands down. Most parents today are however moving from the use of carriers and finding alternative means of carrying their toddlers. Most carriers in the market become uncomfortable for the babies as they get heavier and older.
Carrier Adjustability: Most mothers would put a lot of weight on this aspect. Considering that babies are troublesome and most cases they would keep moving around on the back, they need to be carried in comfortable states. Proper adjustment of a carrier also ensures that the baby carrier can be used for a longer period even as the kid gets bigger and graduates from being a toddler. Adjustability again comes in when comfort of the baby becomes an issue. It is important to take utmost care of your baby all stages of development and that means getting them the best carriers.
Inside Versus Outside Use: When you are considering the option of purchasing a new carrier for your baby, it would also be good to consider its intended use and environment. Are you going to use it in the house or outside? If you intend to use the baby carrier indoors, you might not be so concerned about issues such as the bulky nature of the carrier or how well the baby can pack in the carrier. However, if you need to carry your baby out and about, you would have to get a carrier that is much lighter and more so easy to fold.
Cleaning: Ease of cleaning is another issue to contend with. It is always advisable that you choose carriers or slings that are much simpler to clean. Machine washable products might be the best bet. The reason why you need to consider ease of use of the product you are buying is because such products experience much wear and tear and therefore it is important to wash them in an informed manner.
The Design Features: Definitely the features would offer direction as to whether you would buy or not buy a product. There are various kinds of baby carriers in the market today. Therefore, it is important for you get the best features which are best suited to your baby. If there are allocations for leg holes, make sure that they are properly spaced. It is also good to ensure that back padding is done rightly so that it is comfortable for the baby. It would also be good to get carriers with shoulder straps which are well padded and wide as well. Metal frames at times might become quite uncomfortable for the baby and therefore it is important to ensure that they do not touch the baby's skin.
Shopping Tips For A Baby Carrier
A baby carrier is a device used for carrying a small child or an infant on the body of an adult. Currently this device is being used by very many parents. This is because the device is not only convenient, but also allows you to perform multiple tasks while carrying your child. It allows you to be more productive and save time while ensuring that your kid is secured by your front. The following 5 tips on to how to choose a baby carrier will greatly assist you next time you go shopping:
Safety and Security of the Infant: Ensure that you select the baby carrier according to your kid's age and size. Nowadays, most of the manufacturers of these devices are claiming that their products are secure and safe. However, this may somehow be true, but since it's about the safety of your child we are talking about, it's a good idea that you ensure first that you check for any recalls before striking a bargain. If there are none, ensure that the carrier do not have any torn or broken seams. Also ensure that it is the right size so as to prevent the baby from falling.
Baby and Wearer's Comfort: Before striking a bargain, consider first the season you will be using the carrier. Also take into consideration the various positions you will want to carry your baby. This is because the baby carriers are usually available as front, side and back carriers. If you may be having a back problem, it is good that you avoid back carriers. If you have any shoulder issues, it is good that you avoid the hip carriers. It is good to ensure also that you consider the baby carrier's weight options and ensure that you are very thorough with your research.
Adjustability and Convenience: Some of the carries are usually adjustable and thus they may grow with your kid. For these types of carriers, you can be able to use the same type of carrier by just adjusting it according to their different sizes. A good example of these types of carriers is the Baby Bjorn. However, there are some type s of carriers which are not adjustable but since they usually stretch, they will grow with your baby. A good example of this is the SUPPORI. Some carriers are usually not adjustable and thus will not stretch, so your baby will outgrow it.
Choose a Baby Carrier That you Think May Be the Easiest to Use: This task can prove to be daunting due to the fact that the sheer baby carrier number of brands is overwhelming. In addition to different colors and styles, this will make your decision to be very difficult. Since the baby carriers are not usually a one –size-fit, you will require to consider your lifestyle, personality and any possible limitation. Some people prefer the baby hip carriers since they can connect with the kid while still having one hand free, there are others who dislike them due to balance or the shoulder issues.
Ensure that You Choose a Carrier of High Quality: Ensure that eh baby carrier will be very safe to use for the baby. You can enhance this by checking the weight and age specifications. If the baby carrier has got buckles, make sure that they are very firm and intact. It is good also to check for the brands of carriers with the reviews from the other wearers. However, though it is not a guarantee that these reviews are usually genuine, it's better to check rather than blindly just buying any carrier. Also ensure that the manufacturer has put details instructions on how to use the baby carrier.
Brands
Best Baby Carriers on the Market
Babybjörn Baby Carrier Original Review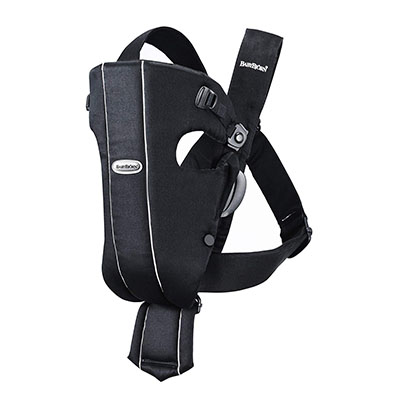 The Babybjörn Baby Carrier Original is made from an OEKO-TEX type of fabric which makes it the ideal choice for summer months as you will not have to be worrying about whether your baby is overheating. It is ergonomically deigned which ensures that the parent will avoid any back injuries and more importantly, it is shaped perfectly so that it supports a baby's developing bones.
Using a baby carrier during your baby's first precious months is the ideal way to introduce him or her to the outside world with maximum closeness you. If you already have a small child, using a baby carrier frees up your hands so that you are able to multi task. You can take baby shopping and push a shopping cart, as well as being able to reach and grab items from shelves. It also frees up your hands so that you can either hold another child's hand or you can push a stroller. If you are the type of parent who likes to keep their baby close at all times, then the Babybjörn Baby Carrier Original would suit you because it is so unbelievably comfortable and lightweight that you will have no difficulty wearing it for longer periods of time.
This baby carrier has been created by the manufacturers alongside paediatricians who have collaborated with the manufacturers to give them the best professional advice, so you can have peace of mind that it ticks all the right boxes for comfort, safety and quality. It has taken 40 years of research and development to reach this high standard of product and this can be seen from the first time you use it. The padding is thicker than other baby carriers for optimal comfort and a lot of technical thought has gone into the support structures and the clasps. It is attention to small details like this which makes this baby carrier so unique!
The Babybjörn Baby Carrier Original comes equipped with a robust back support for baby's comfort and accessories such as a hooded cover can be bought to use during the cooler seasons. The carrier is fully machine washable and is made from breathable materials. It does not fade or become worn after washing so keeps its lovely new look.
If it is a top quality, long lasting, sturdy and reliable baby carrier that you want then Babybjörn Baby Carrier Original should be your first port of call. It comes with full easy to follow instructions on how to assemble and wear, is ergonomically designed and will retain its shape so that you can keep it for your next bundle of joy. Unlike other like for like carriers, it will keep your baby nice and cool and prevent them from sweating which in turn will give you a more contented baby! The way it has been cleverly designed also means that mommy can feed her baby with ultimate discretion.
All of the unique features which this baby carrier has make it one of the top baby carriers in today's market. It is inexpensive compared to similar models and is excellent value for money because it is so hard wearing. Not only will your baby be cool, he or she will also look cool if they are being carried in a Babybjörn Baby Carrier Original!
Infantino Swift Classic Carrier Review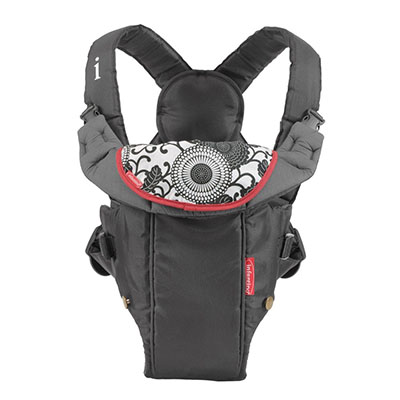 This baby carrier is ideal for both male and female carriers due to its simple design. In fact a man would be quite happy to be seen in public wearing the Infantino Swift Classic Carrier. Men tend to shy away from flowery patterns or pastel shades so this carrier is one which will not cause arguments. It does have a small patterned flap but this is removable. It is one of the most affordable baby carriers in today's market which is a bonus in these difficult economic times. Although it is inexpensive, the safety and comfort has not been compromised at all.
The side clips make it easy for the wearer to get baby in and out and this can be carried out unaided which is a must, especially when having to remove your baby for a diaper change. The design means that it is not complicated and diaper changes can be executed in record time. The breathable fabric makes sure that baby is keeping cool when necessary and the padding is luxuriously thick for ultimate cosiness. The actual straps have adequate padding and have been designed so that the weight of the baby is concentrated on the wearer's hips.
Apart from the super price, one of the main advantages of the Infantino Swift Classic Carrier is the fact that it folds down to a really small size so would easily fit in a larger purse or the hood of your stroller when not in use. The small size of it when folded also gives it the advantage over other baby carriers, as it makes it easier to travel with so you could easily put it in a suitcase to use while you are away on vacation.
It is also so reasonably priced you could afford to buy another one, perhaps for your child minder or a grandparent. It is also one of the most easy to use carriers of its kind. Your baby will be so comfortable in this carrier that you will be able to carry out household chores, go shopping or even do the gardening without disturbing baby. This baby carrier can be used for longer periods of time and is designed so well that your baby will find it easy to drop off to sleep in perfect comfort.
The quality of the Infantino is superior especially given the low cost. Only the best grade of breathable materials have been selected which means that it washes perfectly time and time again in a machine, on a cold setting. This is a huge convenience as babies (especially new born infants) are prone to dribbling and being sick. It is particularly good for infants as it has a very well thought out head support which nestles your baby securely.
So if money is a problem, then look no further than the Infantino Swift Classic Carrier. It is suitable from babies weighing 8 lbs to around 22 lbs so is enough to pay for the first few precious months when you want to feel as close to your baby as humanly possible. It will pay for itself pretty quickly due to the time, freedom and sheer enjoyment that it will bring to your lives.
Moby Classic Baby Wrap Review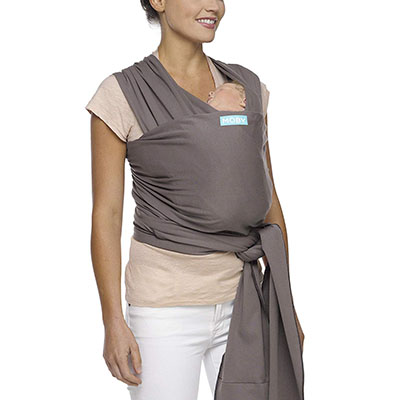 Having a newborn baby to look after can be a wonderfully rewarding experience. It can also be tiring and very demanding, so it is essential that you make the correct choice when buying a baby carrier. The right piece of equipment can make a world of difference to new parents. The Moby Wrap 100% Cotton Baby Carrier is the best choice for a newborn infant as it offers the ultimate bonding experience. It is similar in style to the slings which are used by women from other cultures.
These women have been successfully using this style of baby carrier for centuries as a safe haven for their offspring while thy return to work so this proves that this simplistic design has stood the test of time.
It is 18' in length and is made from durable natural cotton which offers a lot of comfort to both parent and baby. It is particularly useful for premature babies due the closeness of the baby to the parent. The Moby Wrap can be used in a variety of different positions and is suitable from birth until your baby is around 33 lbs in weight.
As well as being compact, it is as light as a feather so will not cause any back or shoulder pain. It's simplicity of use ensures that baby's first few days make for a relaxed experience to both baby and parent. The makers of Moby Wrap 100% Cotton Baby Carrier only use the highest quality materials which have undergone rigorous testing. As a result of this testing, the Moby Wrap meets the Okeo –Tex standards for fabric next to skin. A new born baby's skin is very delicate and sensitive so this gives reassurance when using it.
This baby carrier comes in various styles and unisex colors and is fully machine washable. It also has a matching storage bag which is included in the price. The Moby Wrap 100% Cotton Baby Carrier is the best of its kind and is made from vegetable dyed cotton so there are no harmful chemicals which could be potentially dangerous for your baby.
It is a trusted brand which makes other types of baby equipment so you can always have peace of mind when choosing a Moby product for your baby. You can really enjoy those first precious months with your baby when wearing this baby carrier, safe in the knowledge that your precious bundle is safe, comfortable and happy.
By using the Moby Wrap 100% Cotton Baby Carrier; you can build up your own confidence as well as your baby's. If you are a first time mother you will get a lot of reassurance from holding your baby so close to you and your baby will not cry as much because he or she will feel so securely nestled against your warm skin.
This baby carrier also offers the mother the opportunity to breastfeed her baby comfortably and discreetly when necessary. Because it is so light, it is simple to do other things whilst wearing the carrier so you can be organised as well as content. You should definitely give the Moby Wrap the chance to lighten your load. You can just concentrate on enjoying the experience of being a new parent with no worries. A baby carried in a Moby Wrap is a safe, happy, well rested and confident baby.